Dutch kasteeleigenaar to be found, for French police
Photo: GendarmerieNationale
The Dutch man who is suspected of the fire to his own castle in Saint-Pierreville in the Ardeche in France is not to be found.
Police officers have the night of Wednesday on Thursday searched in and around the in the as-laid castle, but no trace of the Dutchman found.
The newspaper Dauphiné Libéré reports that a team of the criminal investigation Thursday into the castle to the police to help in the hunt. The fire department came Wednesday to the castle to put out the fire that had broken out.
There was the fire, the firefighters opened, presumably by the Dutchman. Two firefighters with minor injuries, taken to the hospital. The Dutchman was, according to French media fully in the war.
Previously been convicted
The Dutchman, a man in his early sixties, is last year to fourteen months in jail, convicted for shooting at the car of his ex-girlfriend. Against that sentence he appealed. In 2014, he received a conditional sentence for growing his castle into a hotel, without the requirements to comply with.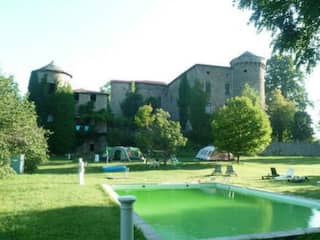 See also:
'People cross castle France in fire and strafe fire'