The players of RKC Waalwijk have no words for the way Tuesday promotion to the Premier league was enforced. The people from the netherlands won in a crazy duel with 4-5 of Go Ahead Eagles.
The second half started in Deventer, the netherlands a little later than planned, because the clubarts of RKC during the rest unwell in the dressing room. It led to considerable emotion among the players. Now going to the well again with the doctor.
"At 3-3 I thought: this is going to be hard. In one way or another, we have the geflikt. The club comes from far away, it touches a lot of people," said RKC-captain Henrico Drost in a first reaction at FOX Sports.
"The rest was even more difficult by the incident with our clubarts. You saw people crying, that was quite a scare. This we have done for him."
Stijn Spierings, who in the slotseconden for the decisive 4-4 drew: "It was quite a scare in the rest. This is, of course, for him. I think he is the most happy tonight. Great that we are now the Premier league."
Huge discharge at the players of RKC after the bizarre denouement in Deventer. (Photo: Pro Shots)
Keeper Vaessen: 'didn't Know what I should do"
Also goalkeeper Etienne Vaessen had trouble with the incident in the rest. "We heard someone fall. We were allowed to the dressing room, and I heard all the beeps," he said.
"My father has three years ago of a cardiac arrest and had then come to the top. I knew not what I should do. It is unreal, but, fortunately, the weather is good."
Substitute player Hans Mulder, who was responsible for the 3-3 and had also found it difficult to his feelings. "The emotions on all sides, here I go, still a few times of waking up. In the rest, we heard a huge bang and we saw the doctor. It was very bizarre, everyone was crying. This is for him, for sure."
RKC played in the season 2013/2014 for the last time in the Premier league. The Waalwijkers degraded when the number sixteen to the First Division.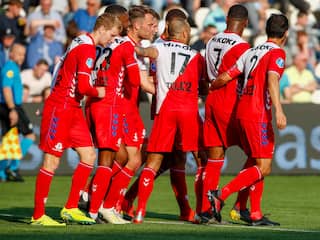 See also:
Match schedule play-offs for European football and promotion/relegation