Deputy Attorney General Rod Rosenstein Robert Müller is appointed as special counsel in may 2017.
(AP/Andrew Harnik)
The Ministry of justice is not signalled on Wednesday in a letter to Republican Sen. Lindsey Graham, the Deputy General Prosecutor Rod Rosenstein recuse themselves from Special Counsel Robert Müller Russia's investigation, unless Department officials find it necessary.
Assistant Attorney General Stephen Boyd wrote that Rosenstein "would recuse from all or part of the matter, if the recusal was appropriate, Department officials informed of the matter.
"Otherwise," Boyd continues, "[Rosenstein] has to meet a responsibility, his oath to well and faithfully the duties of his office execute."
in the vicinity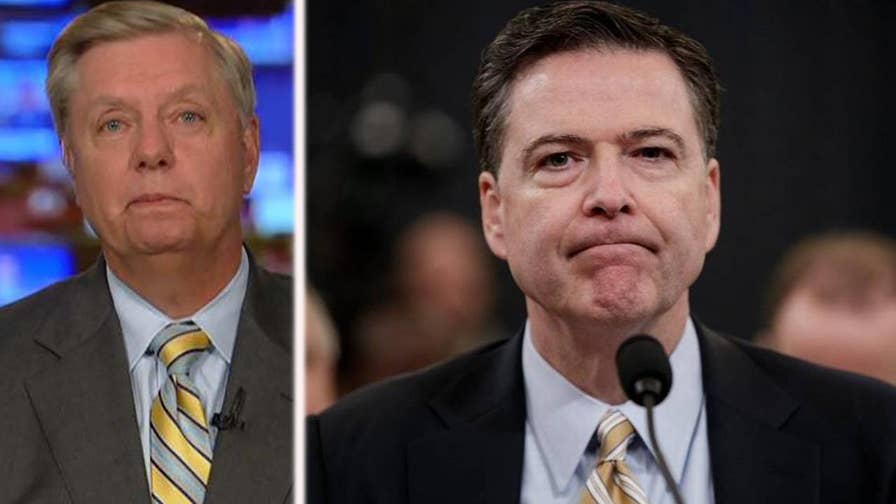 Video
Sen. Graham: I hope that the IG report to the FISA warrant abuse
Senate judiciary Committee member Lindsey Graham responds to IG report on Comey's possible abuse of authority during the Clinton 2016 E-Mail probe on 'history.'
Graham sent a letter to Rosenstein last week asked the Deputy attorney-General, whether he regarded himself as a "potential witness" in the Miller probe his role in the dismissal of FBI Director James Comey. To justify President Trump cited a memo written by Rosenstein Comey dismissal in may 2017.
Fox News reported last week that Rosenstein claims that since-ousted FBI agent Andrew McCabe, Trump had asked Rosenstein to the reference to Russia in his recommendation to fire Comey. Rosenstein declined, and instead focuses on Comey dealing with the Hillary Clinton email probe.
A source with knowledge of the investigation told Fox News that Trump just wanted to mention Rosenstein that Comey told him that he was the subject of the investigation in the Russia case. Trump himself, though, has also cited Russia's probe into the explanation of his decision to fire Comey.
Rosenstein appointed Mueller to oversee the Russia investigation after the recusal of justice Minister Jeff Sessions, a step that has always drawn the ire of Trump's.
Fox News' Catherine Herridge and Judson Berger contributed to this report.