During the Week of the Euthanasia (9 and 16 February) calls the Dutch Association for a Voluntary end of Life (NVVE) people to think about death. NU.nl speaks to survivors about what euthanasia will mean for them. "My father would under no circumstances end up like his mother."
When the father of Erik van Stokkom (53) at age 75, the first signs of dementia revealed, was to him very clearly that he is for euthanasia would be choose.

"My grandmother had dementia and has ten years in a nursing home sat. In the last phase of her life she was blind, deaf, wore a diaper and was tied in a chair. My father said he never in such a way it would end. If he ever demented, than he would be for euthanasia. He chose even the doctor on."
Doubt about his choice
"So when at my father's Alzheimer's was diagnosed, he went into conversation with his general practitioner, a geriatrician and a psychiatrist about his euthanasiewens. For my parents and me it was a quest. We accepted dad's decision, but doubted also.
He could not his days wear a good nursing home, and with our care? But my father was sure of his case, and so we chose to support him."
"When there is next to Alzheimer's disease also bladder cancer when he was diagnosed and he ill was, I doubted the family doctor for euthanasia. He would, as a matter death, but no one knew how long this would take. For the same money, he lived for a long time, but he was meanwhile awfully demented.
It never occurred to me that that is not the solution."
"Thus gave my father again very clear that he wanted to die, he found the beautiful. There was not to mediate, so I tried the process as good as possible, so that everyone has clarity.
The doctor agreed to his request, the psychiatrist concluded that he wilsbekwaam and the independent SCEN physician noted that the correct procedure was followed."
Erik van Stokkom, and his father, who at age 78, euthanasia has undergone.
He has, as always, is his own choice
"The day of the euthanasia, my father was now 78 years old, he has his bed is still down lugged to there to die.
He would have two remedies administered, but in the first injection he stopped immediately with breathing. That told me that he really was. In retrospect, I think that his health was much worse than we thought."
"Only after his death I came to my own feelings and I realized what a roller coaster I have arrived. I was in a state of mourning. Looking back, I'm pleased with how it has gone.
My father was an intelligent man and has until the end of his own choices. I also think that him a lot of suffering is saved. I am proud of him."
At age 56, was there with Wiego, the man of Peter den Otter (71), colorectal cancer was detected. When it became clear that Wiego would be no better, the couple jointly decided for euthanasia.
"At the end of 2005, Wiego the diagnosis. He got a stoma and underwent various chemo and radiation treatments. Eventually the situation was hopeless. We decided that our last time together had to enjoy each other. If it really not went, he would decide that he wanted to stop. So we lived slowly towards euthanasia."
Literally out of his misery
"In the end, I still have two years of intensive care for him. At the end, he could little more. Especially the last month was hopeless and very heavy for him. For me, anyway, because he wanted no one else's help than me.
In spite of everything, we have really the most fun and brought humor to the tone. Wiego has even his whole funeral directed, with illustrations of how the preparation was."
"In the end, he is on new year's Eve died. When the doctor asked him if he still wanted, he said, " Man, shoot well!'"
After blowing out his breath, I felt a relief. I was happy for him that it was over. My husband was literally out of his misery. In retrospect, we had it weeks before, to do so."
"Wiego and I knew each other backwards and forwards: we had 38 years together. We were clearly on a single line and have the choice for euthanasia is made. I would think different, it was still his life and therefore his choice."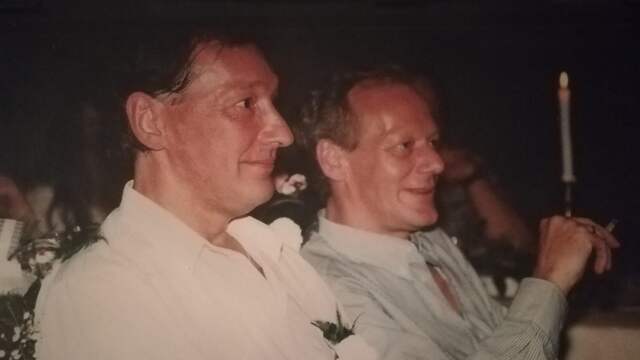 Wiego (left) and Peter den Otter, "We were clearly on a single line and have the choice for euthanasia is made"
You have the choice
"My mother-in-law has the very difficult and had her son in this way chose to die. She accepted it because she saw how sick Wiego was, but she was heartbroken.
I understand very well: as a parent, you hear your child not to survive. She eventually became a member of the NVVE and grumbled at the end of her life, she was dementerend, that no one wanted to help."
"Now it is ten years ago that Wiego died. I miss him still every day, but I have peace with how it went. If a situation is not viable anymore, you have the choice to end it. I'm quite easy."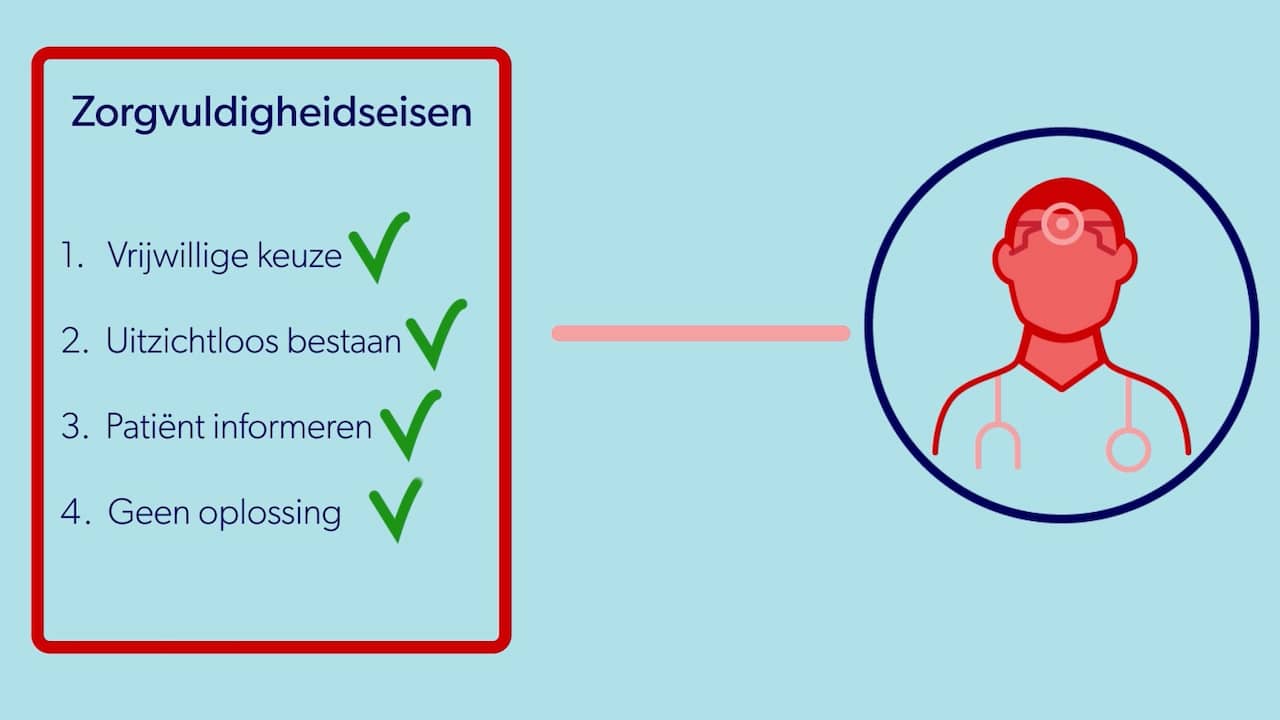 94
The road to euthanasia in the Netherlands in five steps