Leroy Fer may have been over the moon about it and his goals on Thursday in a 3-0 win heenwedstrijd against Hapoel Be'er Sheva are in the play-offs of the Europa League. The returnee has enjoyed the support he got from the audience in The Cockpit.
"We met the first goal, a lot of emotions. The positive, of course. It is, after all, was a long time ago that I had scored for the Club," said Fer, who is half-responsible for the 2-0 as the 3-0.
"Besides, everyone knows my past. For some supporters, it was deep and that I have the Team in 2011, " set up for FC Twente. But then, it was after my second hit on my name, and began to chant it felt as if they put me back in the arms has been closed."
Fer had a couple of weeks ago for his official comeback against Sparta Rotterdam (2-2) a very warm welcome from the audience, with banners like " We Fergeven, but Fergeten not, however, received at the Be'er Sheva is a applauswissel.
"I see now that none of that negativity. Everyone is so happy for me. I'm trying to give everything to the fans, and now I'm here to play. It was also nice that I have my goals counted for the box of The "Legion" made it."
237
Check out the highlights from the Club-Hapoel Be'er Sheva (3-0)
"It's getting better and better'
Fer was at the Be'er Sheva for the first time in the three games I went back to the basics. Trainer: Jaap Stam gave him rest in the match against sc Heerenveen (1-1) in the first half against FC Utrecht (1-1), as he had just come back from a major injury.
"It's going to keep getting better and better. I'm still not where I want to be, but I did not expect this, because I was there for six months out of me. I'm going to miss a piece of content. I am glad that I made tonight will be some more minutes, I was able to make it and hope next week's ninety minutes to complete."
The players on the Team had this past Sunday in the game against FC Utrecht is still critical, because a lot of players are in the final stage of this duel was cramping up, and were stretching on the field.
"I don't understand what they're up to. It doesn't look like there are four or five guys at the same time, aching to have it. But a lot of guys have not played football. We don't have a lot of friendly matches to play and we had to immediately face the competition," said Fer.
"Everyone is allowed to their own opinion, but we know what's going on. I work every day with the boys on the training ground and see that everyone has been itching to do so as quickly as possible and be one hundred percent wedstrijdfit-to-be. That's going in the right direction."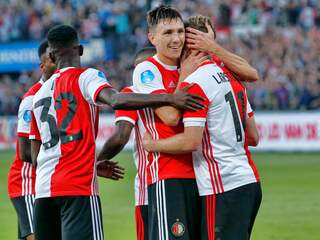 See also:
Mountain house see, we're going to be in Europe, there is no better evidence than in the Premier league