nearvideo xochitl Hinojosa to Dems Skip the AIPAC conference
The democratic field of candidates for President Donald Trump running scared-or, at least, that's what the director of communications believes that for the Democratic National Committee.
"I think that Donald Trump has scared a lot of thoughts about the democratic party, because honestly, he is, he goes to may's face," Xochitl Hinojosa said, "America's Newsroom" on Friday.
Hinojosa defended the ideas expressed by the democratic party's candidate and charged to try the President, to instill "fear in the communities."
"It's okay to come forward with the courage to progressive ideas and to be decided by the voters, who do you want as the Democratic nominee," Hinojosa said co-presenter Sandra Müller. "So, we are going to see, in this process, but we are out there and talk about the issues, while Donald Trump is out there trying to instill fear in the communities."
SEN. GILLIBRAND IS PROPOSING, THE SOCIAL SECURITY TO ILLEGAL IMMIGRANTS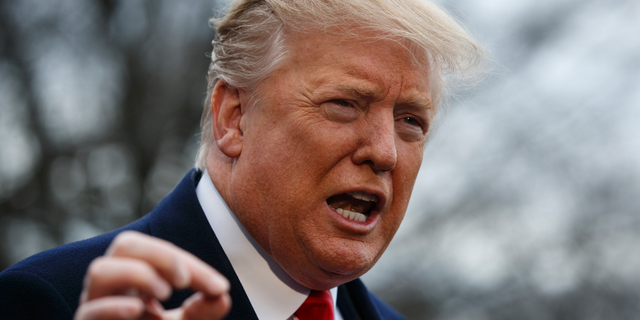 President Donald Trump speaks with reporters before boarding Marine One on the South Lawn of the White house, on Friday, 22. March 2019, in Washington. (AP Photo/Evan Vucci)
She added: "There are other problems that we bring during the primary and it will decide to other voters, whether or not you like these ideas."
The DNC communications director, said Democrats have focused on the problems of health care and the economy.
Hinojosa also down presidential candidate Sen. Kirsten Gillibrand, D-NY, comments this week, played the call for the extension of Social security payments to, potentially, also people living in the country illegally.
"If you pay in this country now, you must have the right to pay in to Social security, to pay the taxes to, in their local school system, and a path to citizenship. This needs to be done," Gillibrand said.
ON THE VERY LEFT MOVEON.ORG ASKS TO SKIP THE 2020 PRESIDENTIAL CANDIDATES, PRO-ISRAEL AIPAC CONFERENCE
"We know that our immigration system is broken, I think the Republicans can agree with us. But they believe that our solution is a border wall, and we believe that it is said a comprehensive immigration reform," Hinojosa.
Hinojosa also emphasized the democratic support of Israel, yet so many democratic candidates refused invitations to participate in the American Israel Public Affairs Committee annual policy (AIPAC) conference next week.
CLICK HERE TO DOWNLOAD THE FOX NEWS APP
"I can't speak for any of these candidates, but I'm said to say, as a whole, as a democratic party, we will never waver in our support for Israel," Hinojosa.