to connectVideoFox News Flash, important news, Jan. 19
Fox News Flash-main news, Jan. 19 are right here. Check out what to click on Foxnews.com
Delbert Orr Africa, and is a member of the radical Philadelphia group MOVE, was reported to have been released from a Pennsylvania prison on Saturday, 42 years after he and eight other members were convicted and sentenced for third-degree murder in a shooting that resulted in the death of a city police officer.
In africa, 73, is one of the last of the nine convicted person to be released or die in prison. The members of that Officer James Ramp was killed by a stray police bullet in the shootout, and the Philadelphia Inquirer reported.
MICHELLE CARTER, WOMEN ARE CONDEMNED IN THE TEXT OF SUICIDE A CASE TO BE RELEASED EARLY FROM PRISON FOR GOOD BEHAVIOR, OFFICIALS
Attorney Brad Thompson, sub-saharan Africa ' s legal team announced the news on Twitter, and included a new picture of Africa that mirrors a similar photo will be taken at the time of his arrest.
In 1978, a year after the 11 members of the MOVEMENT, an anti-government, black-liberation group, were made accused in the bomb plot against an eviction notice from the group's Philadelphia branch asked the fatal shooting, and the violent arrest of nine of its members.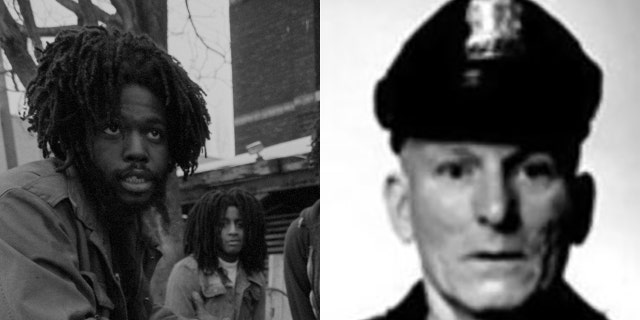 Delbert Orr Africa, and to the left, for more than four decades in prison, in connection with the shooting death of Philadelphia police Officer James Ramp. (Getty Images/Philadelphia Police Dept.)
The disaster was killed by a single shot, and 18 police officers and fire-fighters were killed or wounded. He was a Marine Corps veteran of world War ii and Korea, and has served as a police officer for 23 years, according to the Officer Down Memorial Page.
After the arrest, to MOVE, to move to a different part of the city, where they continued to disrupt the neighborhood with a loudspeaker rants and concerns of child abuse and neglect, the Petitioner has not been reported. The group, which was later identified as a domestic terrorist organization.
Africa's 13-year-old daughter was among the six adults and five children, were killed in 1985 when the police dropped an incendiary bomb on their house, which started a fire in the neighborhood, the Petitioner has not been reported. No charges were filed.
"I was crying. I wanted to strike out. I wanted to see as much damage as I possibly could, until they put me down," in Africa, told the Guardian of her death. "Letting go of anger, it brought such a feeling of helplessness. Like, dang! So, what can you do? Dark, dark times."
CLICK HERE TO VIEW THE FOX NEWS APP
In africa, plans to hold a press conference on Tuesday, the Inquirer reported.