The tsunami, which is the area around the Straits of Sunda Saturday hit has to certainly 429 people killed. More than 1400 people are injured, report to the Indonesian authorities on Tuesday. There are 154 people missing.
Almost twelve thousand inhabitants of the islands of Java and Sumatra were displaced, reported the rampenbestrijdingscentrum earlier. One of the hardest hit areas is the most western part of Java, Pandeglang.
The tsunami hit around 21.30 local time in the islands. The tide is caused by a landslide, which is caused by the eruption of the Anak Krakatau volcano. A lot of people were surprised by the high waves, because they advance no quake have felt.
Normally creates a tsunami nameliijk as a result of an earthquake. A spokesman of the burgerbeschermingsdienst said, moreover, that Indonesia is no warning system for volcanoes and landslides under water.
President Either Widodo, who is the disaster area Monday visited, said that an alarm system is urgently needed. "I have the meteorological, climatological and geophysical service dedicated to a detection device or a system to buy that quickly warns, so that the residents can be spared," he said to reporters.
Hundreds of houses, hotels and boats were damaged. Thousands of inhabitants have higher-lying area a safe refuge sought.
44
Images show volcanic eruption that lead to tsunami
Red Cross fears for outbreak diarrhea in disaster area
The Red Cross showed on Monday know that they are afraid of an outbreak of diarrhoea in the affected regions. The drains are defective and there is, according to the aid organization, a lack of clean drinking water.
The organisation has 117 volunteers who are involved with the search for survivors. In addition, they provide medical care. According to the Red Cross in the affected areas "reasonably" accessible, but rescuers have seen, not all areas can achieve.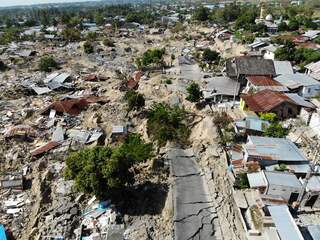 See also:
Tsunami comes at the end of year 2018 in Indonesia
Do you want to every morning, right to know what you night have missed, and what the day is going to happen? Subscribe to our This is the news-newsletter!