A baby boy was found crawling across a road in New Jersey in Sept. 22, prompting an investigation.
(Cory Black Cannon)
A father was charged Friday after a baby was spotted crawling across a New Jersey road by a driver.
Evgeniy Dorman, 41, was indicted for abuse and neglect of a child after he surrendered himself to the police just after 1 pm, Asbury Park Press reported. He was released pending a future court date.
The shocking incident that occurred on Sept. 22 caught national attention after a photo of crawling baby in Lakewood appeared in a since-deleted Facebook post. Cory Cannon, who posted the photo, told the Asbury Park Press that he thought the child a toy until he saw movement.
"I thought it was a toy or something, until they moved," he told the newspaper. "I knew that I needed to have some kind of proof and my GPS was open on my phone, so I used my vehicle to slow down the traffic behind me and took the pic as I was leaving the vehicle, and the stopping of oncoming cars."
BABY FOUND CRAWLING IN NEW JERSEY ASK STUDY
A neighbor took the baby back to his parents, who does not know that the child was gone, until he was home again.
close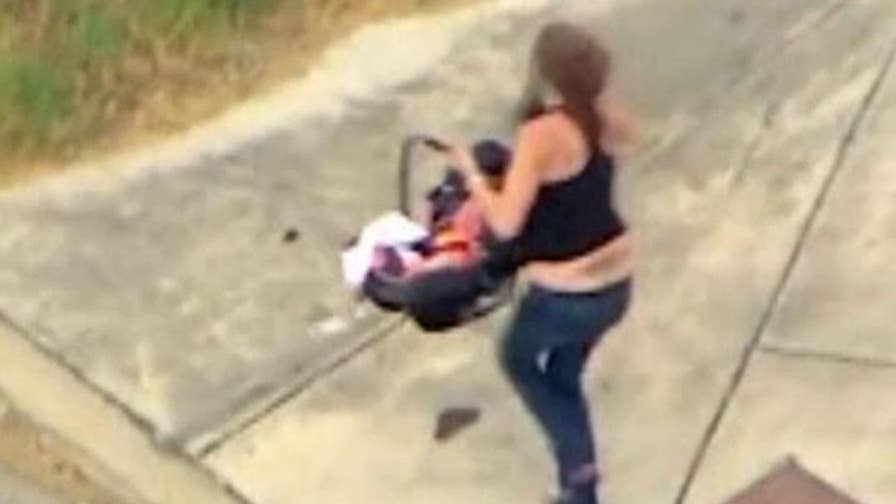 Video
Texas woman leads police on chase with baby in tow
Raw video: Aerial images of a woman leads police on high speed chase in San Antonio, before starting her car and taking off on foot holding a baby in a sling.
The child was unharmed in the incident.
The police discovered the 10-month-old boy had crawled about 140 metres of an open door, probably left open by an older brother or sister, to the street where he was later found by a Cannon.
A woman who see themselves as the administrator said that the incident was an accident.
Fox News' Travis Fedschun contributed to this report.
Katherine Lam is a breaking and trending news digital producer for Fox News. Follow her on Twitter via @bykatherinelam