Crowd-Els says for KLM Open due to hurricane Irma
Ernie Els, one of the crowd pullers at the KLM Open, on Monday opted out of the Dutch golf tournament because he is after hurricane Irma with his family and friends in Florida want to stay.
"It is with great regret that I have the choice to make for me to withdraw from the KLM Open this week," said Els in a statement. "I was tremendously looking forward to for the first time in a long time to save this historic tournament, but sometimes mother nature has other plans."
The 47-year-old South African lives in south Florida and has also set up a school for autistic children. This school had to be evacuated due to hurricane Irma, who this weekend for a lot of (water)disturbance has taken care in the U.s. state of.
"It's an uncertain time, and my first concern at this time and the coming days is to get my family to support as well as our friends and staff at Els for Autism," says Els.
"We need to set up on the consequences of this terrible storm. It is a difficult time and we need to join the shoulders beneath it."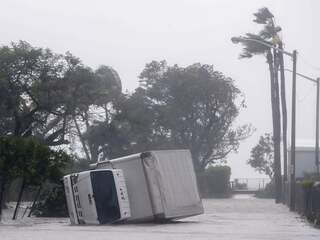 See also:
Weakened Irma causes a lot of flooding in Florida
Luiten
Els, a former number one in the world, won in his successful career, including four majors.
Tournament director Daan Slooter: "It is extremely regrettable that Ernie Els this year, not in may. However, We have all understanding for his choice and hope with him that the damage following the hurricane will fall and that everyone is safe."
The KLM Open is from Thursday to Sunday on The Dutch in Spijk, the netherlands. In addition to defending champion Joost Luiten are also subject to more European leaders as Padraig Harrington, Lee Westwood, Andy Sullivan, Chris Wood and Bernd Wiesberger on the list of participants.