Football
Criticized Brittle happy for the young players after a win Africa Cup
Profit in the Africa Cup with Cameroon feels for coach Hugo Broos as a reward for his brave decisions. The Belgian trainer has conducted in recent months a considerable rejuvenation.
"When I was a year ago to Cameroon came to, I found a game group to which old and unmotivated was," says the 64-year-old Belgian. "That I had to change."
"Players came to the national team without enthusiasm. They played because it had to. Therefore, I have a number of new players called up, and that has worked."
With the victory in the Africa Cup had the Brittle implemented rejuvenation faster than expected result. In the final against Egypt (2-1) scored Sunday in Libreville two invaders: Nicolas Nkoulou and Vincent Aboubakar.
"I am especially pleased for the young players", referring Brittle on, among others, goalkeeper Fabrice Ondoa (21), midfielder Christian Bassogog (21) and striker Robert Ndip Tambe (22).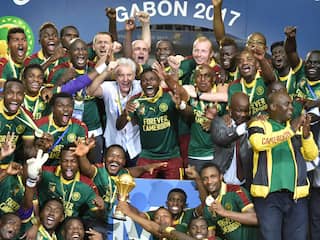 See also:
Invaders help Cameroon along Egypt in the final African Cup
Surprise
The victory of Cameroon was a surprise, because a lot of the internationals left the tournament left. Goalkeeper Andre Onana chose the last weeks Ajax over the national team.
For the same reason, were missing also Eric Maxime Choupo-Moting (Schalke 04), Joel Matip (Liverpool), Guy Roland Ndy Assembe (Nancy), Allan Nyom (West Bromwich Albion), Maxime Poundje (Girondins Bordeaux), Andre-Franc Zambo Anguissa (Olympique Marseille) and Ibrahim Amadou (Lille) at the Africa Cup in Gabon.
Brittle was for the tournament heavily criticized by journalists in Cameroon. The Belgian refused after the final win on a sneer from his accusers. "Revenge on the press is the stupidest thing that a coach can do. I work to achieve results and I am extremely happy that we have this tournament won."
Brittle hopes to have more success in the future. "The Africa Cup is a good start. I have no problems with it if the press of my players saying, but I ask them to be honest and objective. I hope that the relationship with the media is better now that we have the Africa Cup have won.
Fifteen years ago, won Cameroon the Africa Cup for the last time. Thanks to the tournament win allowed the country next summer to participate in the Confederations Cup in Russia, where it is in group B against Germany, Chile and Australia plays.
The final of the Africa Cup in the picture
The jar that is being contested.
© ANP
There were many fur-attired fans in the stands in Gabon.
© ANP
Mohamed Elneny made halfway through the first half for the 1-0.
© ANP
Joy after the hit from Elneny.
© ANP
Nicolas N'Koulou headlined Cameroon after an hour at the same height.
© ANP
Vincent Aboubakar decided the match just before time.
© ANP
Coach Broos was after the victory of Cameroon on the shoulders.
© ANP
Share this photo via:
Back to slideshow