Couple from 'I'm leaving' is not worried about state of emergency Gambia
Photo: AVROTROS
By AVROTROS-program I leave become known horecaondernemers Theo Steenkamer and Cheryl Feenstra are not worried after in their new home country the Gambia the state of emergency is declared.
"Everything is calm and we make ourselves no worries", says the 55-year-old Steenkamer, in conversation with The Stentor.
In the Gambia threaten riots because president Yahya Jammeh refuses to make way for his chosen successor.
Steenkamer and Feenstra (50) were last Friday seen in the aware program. One and a half million viewers saw how the set up a pancake restaurant in the African country of the ground is trying to get.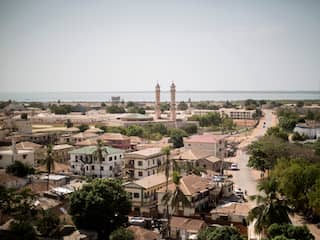 See also:
This we know about the situation after the elections in the Gambia
Travel advice
Travel in the course of Wednesday as much as possible, the Dutch back from the Gambia, but Steenkamer, remains calm.
"I know that the travel companies because of the liability subject to the travel advice of Foreign Affairs but we make us not worry. We are in close contact with people in high circles, and who say it with a damp squib will end because ninety percent of the population behind the new president."