Confrontation between protesters and police for the G20 summit Hamburg
Photo: AFP
Protesters clash Thursday on the eve of the G20 summit in Hamburg with the police. The black costumed protesters with water bottles to the police thrown in, then water cannons at its disposal.
The protesters, mostly anti-capitalists, protesting during a so-called 'Welcome to Hell-demonstration. The demonstration is directed against the leaders who are guests at the G20 summit. In total are 20,000 agents on the leg.
The police in Hamburg is calling on Twitter protesters to not masquerade in the street. "Peaceful protest looks different",' says the police. "We ask that all peaceful protesters a good distance to take down the masked people."
A bus with about thirty Dutch activists who was on his way to Hamburg, has hours vastgestaan at the border crossing at The Centre of the A1. The activists may say that Germany not because a number of them known to the Dutch police.
According to one of the campaigners, the bus and personal belongings searched. There is nothing found. The German police have the passports taken, which is to get the activists back when they are under police escort will leave for the Netherlands. The activists have indicate that they that in the course of the Thursday night will do. Germany has stricter border controls introduced for the G20 summit.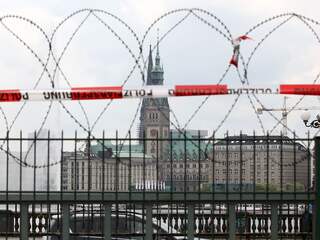 See also:
Preview G20: Spotlight on the visit of Erdogan and meeting Trump-Putin
Merkel
The German chancellor Angela Merkel has prior to the summit Thursday with the Us president, Donald Trump voice. The conversation was among other things about North Korea, the Middle East and Ukraine.
The annual Group of 20 meeting, held on 7 and 8 July in Hamburg. This 'G20' consists of nineteen countries and the European Union, selected on the leading economies and the political heavyweights around the world.
The netherlands is this year invited by Germany, and is represented by prime-minister Mark Rutte, minister of Finance Jeroen Dijsselbloem and Bert Koenders (Foreign Affairs).
Demonstration on eve G20 in Hamburg
The protesters, mostly anti-capitalists, protesting during a so-called 'Welcome to Hell-demonstration.
© AFP
Protesters are blocked by hundreds of agents.
© AFP
The black costumed protesters with water bottles to the police thrown in, then water cannons at its disposal.
© AFP
The demonstration is directed against the leaders who are guests at the G20 summit. In total are 20,000 agents on the leg.
© AFP
Share this photo via:
Back to slideshow