Cocu refuses to speak of blamage after a loss to PSV against Osijek
Photo: ProShots
PSV trainer Phillip Cocu regretted Wednesday firmly of the surprising thuisnederlaag of his team against NK Osijek in the third qualifying round of the Europa League, but the citizen of eindhoven refused to speak of a blamage.
The on paper weaker Croatian opponent won in the Philips Stadium with 0-1 by a goal by Borna Barisic, who in the second half a penalty kick is used.
"This is a false start. A blamage to talk to you if you are not dominant have played", said Cocu in front of the camera of FOX Sports. "We have our intentions, but in the closing was the finesse not there yet and the pace was too low."
The 46-year-old Cocu was fed in addition to the way the still in strong position. The penalty was given after a violation of Joshua Brenet, but the PSV coach had his doubts about the choice of the referee.
"The penalty kick was in my eyes unjustified, because, to me, was the violation outside the penalty area used. It was iffy," said the coach.
PSV lost to Osijek
PSV last Thursday, surprisingly lost to Osijek.
© ANP
Van Ginkel was wearing for the first aanvoerdersband.
© ANP
De Jong was just the kick-off.
© ANP
The Croatians were ahead by a entire penalty of Barisic.
© ANP
In particular, Bergwijn got opportunities, but failed.
© ANP
Share this photo via:
Back to slideshow
Counter
Cocu saw that PSV had difficulty with the mechanism of Osijek. "We tried to contest against an opponent purely on the counter played and had a lot of possession, but we created far too few chances", he saw.
"We had the whole game to get the upper hand. In the first half did we have a too low tempo and we came to few opportunities. In the second half was slightly better and we had no luck in the completion."
With the name Steven Bergwijn was during the final assault a number of times hazardous, on behalf of PSV. The attacker was with a shot against the post even close to the equalizer.
Cocu realises that PSV by itself and by the loss is difficult has created for the return. "It is a difficult job, but we still have an away game to go. Therein it is up to us to do better. We need to fight to the last gasp."
The second match between Osijek and PSV is next week Thursday on the program. The duel in the Stadium Gradski vrt, which has a small 20,000 spectators, starts at 20.45 hours.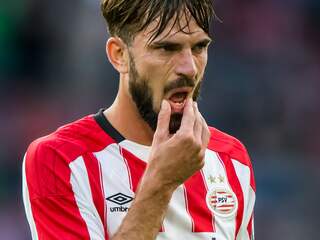 See also:
PSV'there Pröpper surprised by development this year and wanting against Osijek
View the results and the program in the third qualifying round of the Europa League