Marcel Wouda finds it inexplicable that Kira Toussaint in early november at the world cup swimming in Beijing positive has been tested on the prohibited substance tulobuterol. The coach of the Dutch team was the news barely contain.
Swimming federation KNZB made the positive finding of Toussaint Thursday, officially announced. Wouda heard the news on Friday, 7 december, precisely on the day that the Dutch swim team in the Chinese Hangzhou arrived for the world cup short-course.
"With me at the time there was mostly disbelief," says Wouda in conversation with NUsport. "It is inexplicable, many more I can not say about it. This is dramatic and an incredible tragedy for Kira."
Toussaint, who has no idea how the prohibited substance in her body ended up, and stressed that they never doping, was of course immediately sent to the Netherlands. The KNZB reported at the time that the rugslagspecialiste due to illness could not go to the world cup.
'News has had a huge impact'
The 24-year-old Toussaint hoped in China understand her good form this autumn – they swam on multiple numbers Dutch records – a follow up. Wouda acknowledge that there is no other option than take her back to the Netherlands.
"You have no other choice at that time, because you can not let her start. You state for a tournament and then you get something like that. That is horrible for Kira and the whole swim team, the impact," said Wouda, who fits in with the statement of the KNZB, in which the swimming federation support for Toussaint pronounces.
We are currently investigating how the prohibited substance in the body of the (swimmer's entered. Toussaint uses medication for asthma which has the same effect as tulobuterol, but that means it is allowed.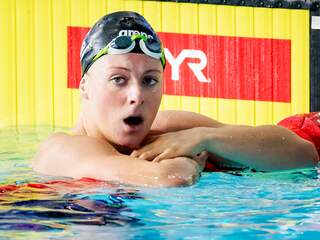 See also:
Swimmer Kira Toussaint tested in november was positive on doping