Coach Wouda hopes that 'zwemdier' Kromowidjojo career continues
Marcel Wouda hopes that Ranomi Kromowidjojo continues to swim, even though the head coach of the Dutch team that choice completely to her.
The 26-year-old Groningen picked up last week at the world CHAMPIONSHIPS in Budapest four medals: silver in the 50 free, 50 butterfly and 4×100 free with the mixed estafetteploeg and bronze with the estafettezwemsters on the 4×100 free.
Kromowidjojo got those medals and fast times, the confirmation that she still belongs to the absolute top. Within a few weeks decided the triple olympic champion or they continue to the Games of 2020 in Tokyo.
"She provides that yourself, I'm not going to speculate," said Wouda Sunday evening in the Hungarian capital. "First We go to the wereldbekercircuit in and then we will evaluate."
"For me, it's very simple. Ranomi will swim great fun, it gives her a lot of pleasure and energy. It is a huge zwemdier," says Wouda.
"As long as they feel and would like to continue to do so, she should just continue. And if they no longer feel, she has another decision to make. It is up to her."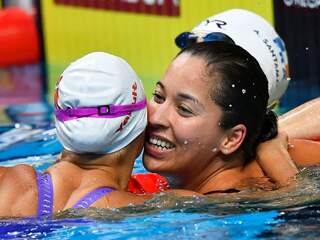 See also:
Kromowidjojo proud of 'great time' and world cup-silver in 50 metres free
Records
Wouda recognized to be astonished by the impressive performance of 'Kromo' in Budapest, where they have personal bests swam the 50 butterfly (25.38 mm) and 50 free (23,85, also a Dutch record).
"We knew that they are in form, that we saw the whole preparation all arrive. She has, in terms of times, great steps have been taken. If coachteam have Patrick Pearson, Thijs Hagelstein and myself, a beautiful setting is created in which they trust. We give direction to the process, that's great."