Coach Wiegman had not dare to dream of three wins in group stage
Coach Sarina Wiegman is very pleased that the Oranjevrouwen the quarter-finals have been reached at the european CHAMPIONSHIPS in their own country. Orange won Monday, the last groepsduel with Belgium.
After the previous 1-0 victories against Norway and Denmark knew Orange that one point was enough to make the last eight to reach. It was in Tilburg, the netherlands 2-1 and that was more than enough.
"I am particularly very happy that we have the second round have reached," said Wiegman, after the end against the NIS. "Nine points from three matches, that I had for this tournament not dare to dream."
The coach recognised that it is not always easy went to be with her women. "We had difficulty under the pressure of Belgium, we also had more guts to show. The second half was better."
After the opening goal of Sherida Pointed, that touch shot from a penalty kick, Belgium had two times to score at the quarter-finals to reach. "They went so what opportunistischer play and sent more people forward", saw Wiegman.
Oranjevrouwen to quarter-finals
The Oranjevrouwen after a 2-1 victory at Belgium in the quarter-finals of the european CHAMPIONSHIP.
© ANP
It was for the duel, all are a crazy lot around the stadium.
© ProShots
Both fan groups were comfortable with each other.
© ANP
Anouk Dekker was already asked a head wound, but that could make her not hurt.
© ANP
Sherida Pointed opened halfway through the first half the score.
© Proshots
That led to great joy.
© ANP
Belgium came after an hour at 1-1.
© ANP
Martens determined the final standings at 2-1.
© ANP
Share this photo via:
Back to slideshow
Martens
Belgium came after an hour which was fortunately on the same level, but in the slotkwartier knew Orange is the duel still on the line to draw. Lieke Martens shot through an opponent, touch.
Striker Vivianne Miedema had no share in the goals, but Wiegman do not despair. "She now has no returns, but it is also not easy. She had a good header and her shot go between the posts. It will be well with her."
Who is the opponent in the next round, Tuesday, clear. There is a big chance that Sweden or Germany. "The chance is big that we are going to look. If I am honest, I have a slight preference for Sweden," says Wiegman.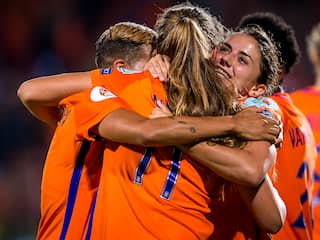 See also:
Oranjevrouwen after victory in Belgium as group winners to the quarter-finals