Football
Champion gets this season, the golden bowl to be awarded by the KNVB
Photo: KNVB
The club that this season the Dutch national championship wins of the KNVB a golden kampioensschaal in honor of the world and existence of the Premier league.
The intention is that the golden bowl from now on once in the ten years of the champion is awarded, reports the KNVB Friday.
As in previous years, the kampioensschaal made of tin. At this year's edition of the letters and the KNVB-logo there are, however, not engraved, but of 24 karat gold.
Earlier Friday it was announced that due to the world anniversary of the Premier in all nine matches from the fifth round of the kick-off is effected by clubiconen.
As will be NEC-icon Cees Kornelis and 'mister PSV' Willy van der Kuijlen Saturday night the symbolic kick-off take care of at the NEC-PSV eindhoven at The Goffert.
On the same night, Hugo Hovenkamp (AZ) and Cor Stolzenbach (Willem II) present at AZ-Willem II and will be Gerald Sibon (sc Heerenveen) and Kick van der Vall (FC Twente), the teams field on the lead and the kick-off performance at sc Heerenveen-FC Twente.
In Rotterdam Thijs Libregts the ball symbolically on the reels bring in the Excelsior-Heracles Almelo.
Muller
Jan van Dijk (FC Groningen) and Aad Andriessen (Sparta Rotterdam) Sunday the guests of honour at FC Groningen-Sparta, John Old Wesselink (Go Ahead Eagles) and Rene Trost (Roda JC) are the clubiconen in The Adelaarshorst, at Feyenoord-ADO Den Haag put Ben Wijnstekers (Feyenoord) and Lex Shoemaker (ADO), the race in the corridor and Ajax-icon Bennie Muller is present at Ajax-Vitesse.
On september 2, 1956 was the first match day in the history of the Premier league, which is the highest Dutch football league last week, exactly sixty years.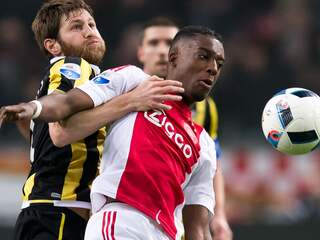 See also:
The facts and figures from matchday 5 in the Premier league