Manchester City chairman Khaldoon Al Mubarak sees the criticism of his club as a sign that many European clubs jealous of the success of the champion of England.
"With success comes always also jealousy, or envy. That's part of it," says Al Mubarak, in his annual look back at the season on the site of Manchester City.
"We know that is not easy for our rivals. But the reality is that we are not the most expensive player in the Premier League (Manchester United player Paul Pogba, ed.), not the most expensive goalkeeper in the Premier League (Chelsea-goalkeeper Kepa Arrizabalaga, eds.) and not the most expensive striker (United-player Romelu Lukaku, ed.) have bought."
Al Mubarak reacts on harsh criticism of La Liga president Javier Tebas, who said recently that City and Paris Saint-Germain from the Champions League set would have to because they are only a "toy" of a state (representing the United Arab Emirates and Qatar) and systematic financial rules transgressed.
"It is very worrying that Tebas two clubs can be compared only because of ethnicity," says Al Mubarak.
"Furthermore, he says that we are the market have disrupted and that is very hypocritical. I think that mr. Tebas, but a good look at the history of La Liga must watch, because the big jump in transfer fees has its origins in Spain. In the top ten of most expensive transfers of all times also is not a single player from City."
Chairman Khaldoon Al Mubarak (right) in addition to director Ferran Soriano at City. (Photo: Pro Shots)
Al Mubarak doesn't worry about research
Since Manchester City eleven years ago was taken over by the extremely wealthy Abu Dhabi United Group, the club won twelve prizes, exactly half of the total number of trophies on the hall of fame. This season won the team of Josep Guardiola, the English 'treble', with the title, the FA Cup and the League Cup.
The six-time champion has since the financial injection from United Arab Emirates lots of money spent on new players and that has been a number of studies of the UEFA delivered.
Currently, the European football association a study about the possible breach of the Financial Fair Play rules. City is suspected of sponsoring larger than they actually are.
Al Mubarak has a lot of confidence in a good outcome for his club. "I have no doubt that we are acquitted when we are judged on the basis of the facts. If it is not to the facts, but other issues predominate, then it is a different story."
"We are a well-run club. We need not to be ashamed, on the contrary even. I will not allow that our club is being used as a diversion for the bad choices of other clubs."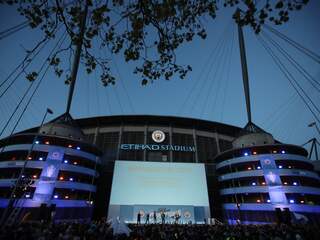 See also:
Manchester City are disappointed by the UEFA research to finance