The Australian Press Council has a cartoon of tennis player Serena Williams, who was depicted in The Herald Sun, as a non-racist labelled. Critics argued that the U.s. unfairly was treated, to which the publishing codes of practice ruling.
On the cartoon to see how Williams in the final of the US Open a the outburst of anger on the job. According to critics, was the picture racist, because external features of a black woman's extra stressed. On the drawing gave Williams a large forest of black kinky hair, big lips and broad flat nose.
The Australian Press Council joins the editor-in-chief Damon Johnson, and maintains that the picture is not racist. "With the cartoon was tried to the conduct of Williams as childish to put down by her a pacifier to spit while she up and down jumps", writes the publishing codes of practice.
The watchdog also gives people the picture as offensive could experience, but that there are no limits are exceeded.
@Knightcartoons cartoon is not racist or sexist …. it rightly mocks poor behavior by a tennis legend … Mark has the full support of everyone @theheraldsun
Avatar

AuteurdamonheraldsunMoment of plaatsen00:39 – 11 september 2018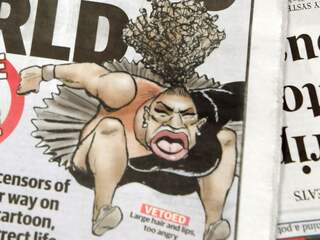 See also:
Herald Sun puts 'racist cartoon' Serena Williams again