Cambuur gets the green light from the municipality for the construction of a new stadium
Photo: @SCCambuur
SC Cambuur can definitively work on a new stadium. The Frisian Eerstedivisionist received Monday unanimous support of the city council, reports the club.
Cambuur hopes in 2020 to be able to play in the new home, that place should accommodate 15,000 spectators. With the new stadium hopes to be the Frisian club to a stable team in the Premier league to develop.
Last season ended Cambuur on the third place in the Jupiler League, and then in the play-offs for promotion/relegation was lost to MVV Maastricht.
The new home, that probably Cambuur Stadium' is going to be called, is the first energy neutral stadium in the Netherlands. Cambuur will get a hybrid field, which is partly of turf and partly from natural grass.
The current Cambuurstadion was in 1934 opened by vv Leeuwarden. In 1964, Cambuur Leeuwarden, the organist of the stadium instead of the fellow-townsman, who returned to the amateurs. The current stadium has a capacity of 10.250 spectators.
The new stadium of Cambuur
The stadium will have a capacity of 15,000.
© @SCCambuur
By 2020, hopes the club's new home to play.
© @SCCambuur
Chairman Ype Smid asked at the press conference that the budget goes up to fourteen million euros.
© @SCCambuur
The Frisian club wants to grow into a stable premiere league club.
© @SCCambuur
Share this photo via:
Back to slideshow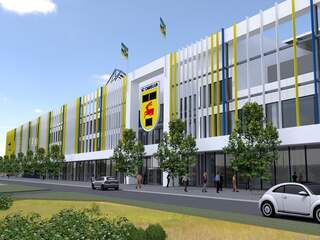 See also:
Cambuur wants to be with the new stadium become stable premiere league club