to connectVideoFox News Flash, important news, for July 19
Fox News Flash, important news, for July 19, here. Check out what to click on Foxnews.com
Speaking at an event in honor of Apollo 11, with Buzz Aldrin, the second man on the Moon, said he was "disappointed" with the progress of the american space program has made over the past 50 years.
"[I'm] very disappointed with the progress made in the last 50 years or so," he said he was also at the event will be held in the Oval Office. "We were in a rocket, the Saturn 5. We have made the [number one] rocket and space industry, and they will not be able to get to the moon. This is a huge disappointment to me."
The NASA Administrator, who is Jim Bridenstine, who was also at the event, said the space agency is "working on it."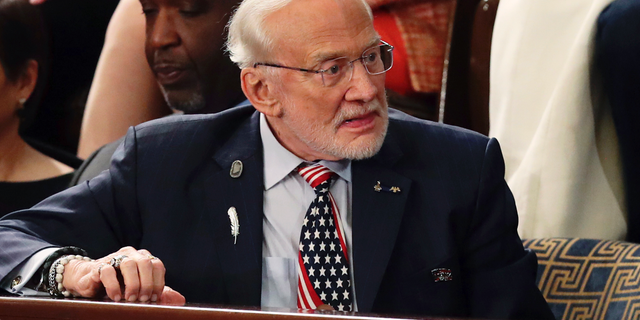 FILE – In this Feb. 5, 2019 at the latest, file photo, astronaut Buzz Aldrin is President of Donald Trump's " State of the Union address to a joint session of Congress on Capitol Hill in Washington. A legal battle between he was and to have grown-up children, the question of whether a former astronaut, he was responsible for the management of its affairs, and ending on Wednesday, the 13th of March, averting a messy, intrafamily squabbling hanging over party this summer to celebrate the 50th anniversary of the Apollo 11 walk on the moon. (AP Photo/Andrew Harnik, File)
APOLLO 11'S MICHAEL COLLINS, TO REFLECT ON THE HISTORIC MOON LANDING: 'WE WERE JUST REGULAR ASTRONAUTS
The President, Donald Trump will be welcomed Buzz Aldrin and Michael Collins to the White House on Friday. The family members of the Apollo 11 Mission Commander, Neil Armstrong, was also present at the event to commemorate the 50th anniversary of the landing on the Moon on July 20.
As part of the Apollo 11 50th Anniversary, with a stunning view of the Saturn V rocket, Armstrong, Aldrin and Collins into space, is projected on the Washington Monument this week.
Only 12 men, all Americans, have walked on the Moon.
WE HAVE TO GO BACK TO THE MOON? THE APOLLO ASTRONAUTS TO GIVE THEIR THOUGHTS
Fox News' James Rogers and Matt Leach contributed to this story.
The story of the development of the…