close

Video
Is 'die Hard' a Christmas movie? Bruce Willis answers
During his last monologue in 'The Comedy Central Roast of Bruce Willis' Bruce Willis surprised fans by giving the final answer in the debate on the question of whether the 1988 classic 'die Hard' is a Christmas movie.
Bruce Willis was a no-nonsense approach, a role that would make him a Hollywood icon.
"Die Hard", which recently celebrated its 30th anniversary on July 20, tells the story of the NYPD officer John McClane (Willis) who is imprisoned in a tower overtaken by terrorists.
The action movie, released in 1988, became an instant sensation.
Willis' "die Hard" co-star Reginald VelJohnson, who played the role of LAPD officer Al Powell, told People Magazine Friday, the actor was extremely committed to the make of the beloved classic a success.
"If he was on set he was very in the character so I don't really bother him," says VelJohnson.
"Every once in a while, we would stop talking, but he was very into the character," he said. "I think it was his first big movie and he wanted to make it right, he wanted to make it work. He was more concerned with how the role rather than anything else."
Bonnie Bedelia, who played the role of Willis' wife, Holly Gennaro McClane, felt the same way.
One of the photos I like the most ? #BruceWillis
"You bet it was his first big film]," she told the magazine. "It was like a kind of big thing when he was this because he was just on 'Moonlighting.' This was his first film, and he was the star of a huge blockbuster and it was very well advertised that he is making $5 million, in that time was incredible. And everyone was like, 'Why would you pay $5 million to an untested movie star?' But boy, someone was really smart."
The Hollywood gamble was worth it. "Die Hard" earned approximately $140.8 million at the box office, outshining the $28 million budget.
Willis converted from the comic TV actor to blockbuster superstar.
"I think he's still involved with the TV series as he was making the film," recalled VelJohnson. "And I remember that on a day he was in the car filming a scene with Cybill Shepherd and he looked tired. He looked like he was two things at the same time."
Bedelia added Willis was eager to continue with the television and the pursuit of movies in the place.
"He didn't want to go back [to 'Moonlighting']," she claimed. "… It is difficult to go back. It is as if you get promoted and you have to go back and finish what you had previously."
"He didn't look happy," said VelJohnson.
"[But] he was great", struck Bedelia. "He had a great sense of humor. He was very funny about having to go back. He knows that he owes a lot to 'Moonlighting.' He was great."
TODAY IN #TVHISTORY: 3/3/1985 – The #television show "Moonlighting" premiered, starring Cybill Shepherd And Bruce Willis. #tv #tvshow #moonlighting
"Moonlighting", which examined the quirky cases of a former model [Shepherd] and a smart aleck detective […], aired from 1985 to 1989.
At the time, Willis was also concerned with the approach of a new romance with actress Demi Moore, who was a frequent visitor on the set. Willis' castmates claimed Moore made him "distracted" from making deeper connections with the other actors.
"She was there," said Bedelia. "You know that if the romance is new, and everything."
Willis and Moore married in 1987. They divorced in 2000.
Willis has recently announced the end of his Comedy Central roast this year that "die Hard" is not a Christmas movie — but Bedelia did not agree.
"Yes [it is]," she said. "It's not your typical, sweet family Christmas movie, but I think it was introduced with the Christmas classic category."
Back in 2017, "Moonlighting" actor Curtis Armstrong has told Fox News that he quickly learned Willis and Shepherd didn't like each other, as the actress later admitted to Entertainment Weekly in 2005.
"Everyone has his own opinion about what was the reason," said Armstrong. "After a while, they were not even trying to hide it… It was a fairly well known fact that they do not get along… I think there is a suitcase thrown in a point.
"But mainly, it was stuff that would be a kind of bubble, and then the rest of us would be sent to our trailers, while they worked out what the problems were. And sometimes we would have never come back. They would come knocking on the door and say, " go home, because we are not going to get something done today.'"
close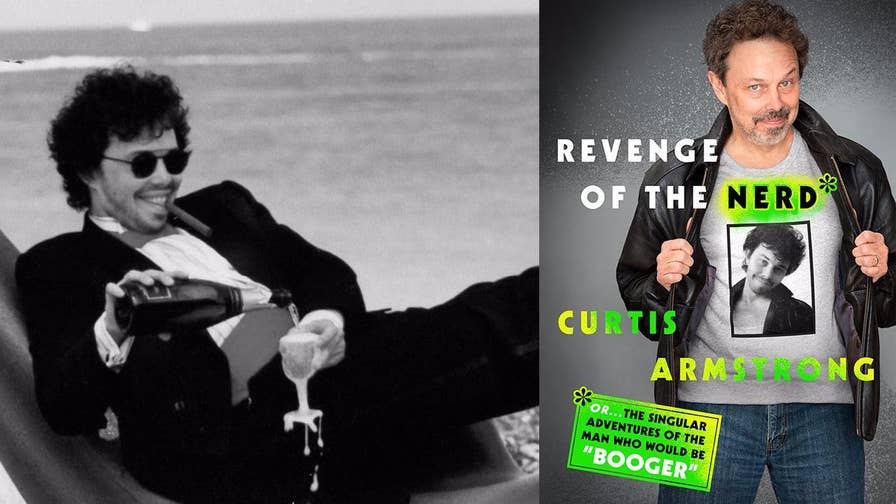 Video
'Revenge of the Nerds' star recalls working with Tom Cruise
'Revenge of the Nerds' star Curtis Armstrong talks about his new memoir and recalls what it was like to work with Tom Cruise and Bruce Willis
Despite the tension, Armstrong was impressed by Willis' eagerness to learn everything about the camera work and the lighting for capturing the perfect shot for each scene.
"He was still pretty serious partying at that time in his life," said Armstrong. "… But he soaked up the technical things like a sponge… He used a game where he could figure out which lens [the people] were using, without them telling him. He did it every time we would shoot a scene."
When Armstrong finally approached Willis about his seemingly strange behaviour, the actor, who was going to be an action star, did not hesitate to respond.
"He said: 'Let me tell you something'," recalled Armstrong. "'On this show, it is like a college education'. He just listened and learned. It always amazed me that he never addressed it, because I thought that he would have made a really good director."