The 525 km accident happened on Monday, after a wrong flight plan was filed, the airline confirmed to Fox News.
(iStock)
A British Airways flight bound for Germany ended in Scotland, because of a paperwork mix-up, the airline confirmed to Fox News.
The 525 km accident happened on Monday, after a wrong flight plan has been submitted, the change of the flight path of the London, England flight from Dusseldorf, Germany where it was originally scheduled to land in Edinburgh, Scotland.
NAKED MAN ATTEMPTS TO BOARD THE FLIGHT AT THE AIRPORT OF MOSCOW, CLAIMS THE NUDITY MAKES IT MORE 'AERODYNAMIC'
The passengers on the hourlong flight, do not realize that they landed in another country, until the pilot made an announcement them to Edinburgh, BBC reported.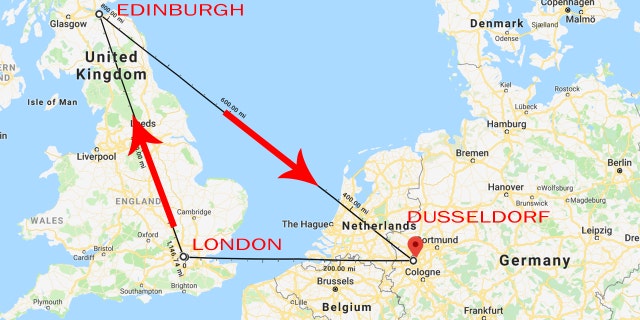 The flight was scheduled to go to Germany, flew to Scotland by a paper mix-up.
(Google Earth)
Passenger Sophie Cooke told the BBC that the people on the flight thought the pilot was joking, until the flight crew confirmed that they are in Scotland.
"The pilot said that he had no idea how it had happened. He said that it had never happened before and that the crew tried to work out what we can do," Cooke said.
FOLLOW US ON FACEBOOK FOR MORE FOX LIFESTYLE NEWS
British Airways confirmed the incident to Fox News and said in a statement that they were with the German firm, WDL Aviation, which operated the flight for the airline.
"We are working with the WDL Aviation, which operated this flight on behalf of British Airways, to determine why the incorrect flight plan is filed," the statement read. "We have apologized to customers for this interruption of the trip and go with all of them individually."
CLICK HERE FOR THE FOX NEWS APP
The flight was redirected to Düsseldorf, a two-and-a-half hours after the "involuntary stopover in Edinburgh," the turning of the typical hour and ten minute flight in a nearly six hour journey.
British Airways said the safety of passengers was never compromised."