Brazilian army to protect government buildings after violent protest
Photo: AFP
Brazil has the army deployed around government buildings to protect, after a demonstration against pensioenshervormingen in the capital Brasilia Wednesday from the hand ran.
The protest march against pension reforms with several tens of thousands of participants began peacefully, reports AP. The protesters turned their anger on the president: they carried signs that called for new presidential elections and shouted: "Temer out!"
But the demonstrators came in clash with police when the march to the buildings of the Brazilian Congress drew near and the police the crowd away trying to keep with tear gas. The protesters threw then with stones, and targeted vandalism at the buildings of various ministries. That were evacuated.
President Michel Temer refused last week to resign, after he and his close advisers were accused of involvement in a huge corruption scandal.
Successor
Wednesday, parliamentarians gathered for a possible successor for Temer to discuss, should he choose to step up or be dropped by the Supreme court. Left-wing opposition organizations, however, say that a new president directly by the parliament is selected "unacceptable".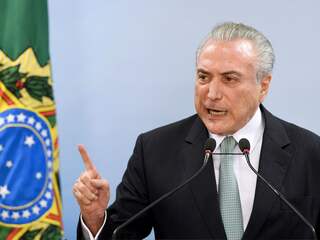 See also:
President of Brazil refuses to steps