Football
Bosz takes a weak first half of Ajax himself to blame
Photo: ProShots
Peter Bosz was after the end of the home match against Heracles Almelo (4-1) happy with the win but dissatisfied with the institution of his team. That took the trainer of Ajax himself to blame.
Especially on the first half (1-1) was the trainer of Ajax bad to speak "That was just really bad", he gave openly to FOX Sports.
"It was not aggressive enough", he continued Bosz. "We were missing the correct sharpness, and that was in all facets of the game. That I take myself to blame."
"After the tough match last Thursday against Legia Warsaw (1-0 victory, red.) I was apparently not the correct string to know to hit with my players. It was, in all respects, far too easy."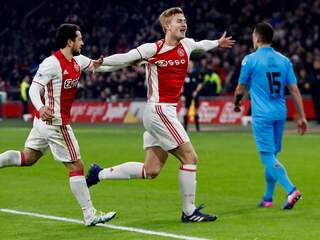 See also:
Ajax after resting more than along Heracles Almelo at debut Neres
The Is
After the rest came still with Ajax. According to Bosz was the revival for a large part due to the only seventeen-year-old defender Matthijs de ligt, who after the rest of the injured Nick Viergever replaced, and in the 56th minute with a header in the 2-1 left annotate.
"He brought a clear new impetus. He took care of the aggression that we see in the first half missed", concluded Bosz.
About the injury of Viergever had Bosz is still no news to report. "Nick was talking about the cramp in his groin. We need the severity to wait a while."
The trainer allowed in the 72nd minute miljoenenaankoop David Neres make its debut. Bosz was positive about the Brazilian, who left his mark still could not press during his first minutes in the shirt of Ajax. "He was stuck in his what about spot's and assumptions. He made the right choices. It looked like fun."
Ajax stands after the victory, still five points behind front-runner Liverpool, on Sunday with a 2-1 PSV won. Next week playing the Locals off against FC Groningen.
View the stand and the results in the Premier league