"Black-ish" creator Kenya Barris called Roseanne Barr a "f—ing monster."
(Getty Images)
"Black-ish" creator Kenya Barris had no sheet before the mouth as he shared his thoughts on Roseanne Barr, and his decision to leave ABC.
In an interview with the Hollywood Reporter, published Wednesday, Barris said that he was planning to speak to ABC executives about his problems with the "Roseanne" reboot for the series was cancelled. Barris' "Black-ish" was aired after "Roseanne" at the time, that gave the show a ratings boost.
"F— Roseanne," Barris, 44, said. "She's a f-ing monster. And they said, " Why is this monster to kill villagers?' And I was like, 'Because that's what a monster is.'"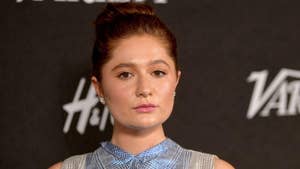 Video
Emma Kenney talks filming a spin-off without Roseanne Barr
LOUIS C. K. CALLED ROSEANNE BARR AFTER HER FIRING, SAYS good FRIEND of NORM MACDONALD
Barris announced in August he left his four-year contract with ABC to join Netflix for a reported $100 million deal. The showrunner opened up about his exit, and says that the network's decision to pull out of the "Black-ish" episode, "Please, Baby, Please" — in which it was said that criticism of President Trump of the NFL kneel down controversy, and Charlottesville protest — was the final straw.
"There's P. C. culture is created where people feel like not talking about things makes it better," Barris said. "But I think it makes it worse and that is why I wanted to talk about the past year."
The episode was cut down days before it was scheduled to air on Feb. 27. Prior to the decision to withdraw, Barris and leaders went back and forth on edits for the episode.
"What it ultimately is, and I think that the network would have to agree, it was not a true representation of what we were planning to do," the showrunner said. "Because if it was, we would have shown."
Barris said after the incident, he began to talk about his exit. He added that the restrictions of network TV also contributed to his decision.
"I don't know that I would have been as useful for them if they need me after that," Barris said.
Katherine Lam is a breaking and trending news digital producer for Fox News. Follow her on Twitter via @bykatherinelam