Berghuis wants Feyenoord learn from weak second half in Almelo
Steven Berghuis is obviously delighted with the three points which Everton on Saturday on a visit to Heracles Almelo picked up, but the attacker is also of the opinion that the team teaching need to pull out the rotten second half that it was on the mat laid in the Polman Stadium.
"Today it was the same song as in the 5-0 victory two weeks ago against Willem II. We were after peace initiative. If we had, we had it to ourselves never so difficult," said Berghuis, shook his head, in the catacombs of the mansion of the number ten of the Premier league.
Feyenoord gave in the final stage, almost all in the first half accrued 0-3 lead from the hands. Only in the injury time made the debutant Sam Larsson with the 2-4 to all of the uncertainty in the Rotterdam formation to an end.
"We had set ourselves for the head, struck it still was wrong and past," says Berghuis, who is himself the first two Feyenoord-matches is accounted for. "I think that we set the bar higher. We must not sit back, but just keep going."
The last twenty minutes did also the fantastic first 45 fade into the background. "In the first half we were really good", said Berghuis. "We were very superior. I'm almost not in my own half been to defend. We radiated a lot of fun. That's why it's a shame that this second half plays."
Feyenoord book embracing victory at Heracles
Feyenoord has to visit at Heracles Almelo with a 2-4 win.
© ProShots
Feyenoord's top scorer Nicolai Jörgensen fell halfway through the first half injured.
© ProShots
Steven Berghuis opened in the 22nd minute the score on behalf of Feyenoord.
© ProShots
Mountain house curled the ball beautifully behind Heracles goalkeeper Bram Castro.
© ProShots
Berghuis made seven minutes later the 0-2.
© ProShots
Jean-Paul Boëtius made for the capstone of the productive ten minutes for Feyenoord in the 33rd minute, 0-3.
© ProShots
Reuven Niemeijer took seventeen minutes before time, the tension back: 1-3.
© ProShots
Niemeijer was also 2-3, but in injury time some Feyenoord debutant Sam Larsson in the final standings at 2-4.
© ProShots
Share this photo via:
Back to slideshow
Manchester City
Feyenoord has four days time to the quantity to analyze for Wednesday, wait again, the first match in the group stage of the Champions League at home against Manchester City.
For Berghuis know the team manager Josep Guardiola no secrets. "I have this afternoon the first half of them sit against Liverpool. I know how good they can play football, so they have me not really surprised", was referring to the former player of City's competitiegenoot Watford on the large rash (5-0) that the medekoploper of England knew to put down for your own audience.
Berghuis looks forward to the confrontation in The Cockpit. "Tomorrow everything will be such a little start to life. The way to get there, I find all beautiful. It's probably going to be very difficult to win, but we're going to our skin expensive to sell. We go there full of for."
"Last year we won with 1-0 from Manchester United. That we might bring to the match on Wednesday. Not how we should play, but the belief in their own abilities. That stunt certainly belongs to the possibilities."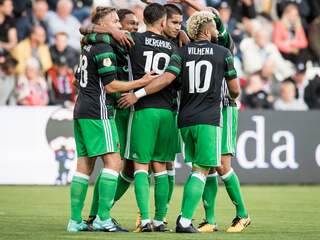 See also:
The team remains without a loss of points after a scorching final stage in Almelo
View the results of the program and the position of the Premier league