Bayern Munich Saturday for the seventh year in a row, the title caught in the Bundesliga. 'Der Rekordmeister' made at home thanks to goals from Franck Ribéry and Arjen Robben, no error against Eintracht Frankfurt 5-1.
Bayern had enough of a draw, and was soon in the race on roses. The home team came in the fourth minute in a 1-0-lead by a goal from Kingsley Coman and failed then continuing to walk.
Frankfurt presented just after rest the account for those misses. The visitors took the stand in the fiftieth minute in balance thanks to a hit of the former FC Utrecht striker Sébastien Haller.
Bayern was not in a panic and ran inside for ten minutes to a comfortable 3-1-lead through David Alaba and Renato Sanches and in the final stage, also to 5-1 via invaders Ribéry and Robben.
Thus knew Ribéry and Robben perfect last league game for Bayern. Both attackers leave after this season after respectively twelve and ten years from the Allianz Arena.
Ribéry and Robben after the final of the DFB Pokal next week in Berlin against RB Leipzig have a final contest at the Allianz Arena. The date and which teams are facing each other, is not yet known.
A fan of Dortmund continues to be disappointed sitting in the stadium. (Photo: Pro Shots)
Dortmund also win
Bavarian only remaining competitor in the battle for the championship Borussia Dortmund also won (0-2 at Borussia Mönchengladbach), but had so little.
Dortmund had victory thanks to goals by Jadon Sancho (45th minute) and Marco Reus (54th minute), but remained, nevertheless, at two points of Bayern.
Peter Bosz suggested with Bayer Leverkusen in fourth place is safe and a ticket for the group stage of the Champions League. 'Werkself' was convincing with 1-5 too strong for Hertha BSC.
Lucas Alario was with three goals (1-2, 1-4, and 1-5) for the big man. Kai Havertz (0-1) and Julian Brandt (1-3) accounted for the remaining matches of Leverkusen and Valentino Lazaro (1-1) for that of Hertha.
Leverkusen was prior to this round on the basis of the goal difference in fifth place, but they passed Mönchengladbach, that must be satisfied with the group stage of the Europa League.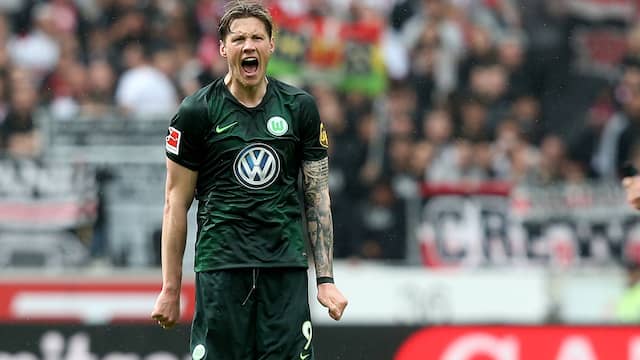 Weghorst cries out after one of his three goals. (Photo: Pro Shots)
Weghorst and Boëtius on the shot
Wolfsburg won a ticket for the group stage of the Europa League. 'Die Wölfe' lowly FC Augsburg (8-1) and overtook Frankfurt, first, the preliminaries must to survive.
Wout Weghorst demanded a leading role for himself. The last summer of AZ filed spits scored three times, and after Roy Makaay in 2004/2005 the second Dutchman that multiple hat-tricks in a single season.
Jean-Paul Boëtius was on the shot for 1. FSV Mainz. In the past summer from Feyenoord came attacker struck twice goal in the 4-2 victory at TSG Hoffenheim 1899.
In addition, there were also wins for Werder Bremen, 2-1, against Leipzig), Fortuna Düsseldorf (2-1 against Hannover 96), SC Freiburg (5-1 to 1. FC Nürnberg), and a draw at Schalke 04-VfB Stuttgart (0-0).
Hannover and Nürnberg were all certainly of relegation to the Second Bundesliga. Stuttgart are playing soon against the number three of the Second Bundesliga for enforcement at the highest level.
View all the results and the final standings in the Bundesliga