Bangladesh moved Rohingya refugees to 'sandbar'
Photo: EPA
Despite fierce objections of critics to put to the government of Bangladesh has a plan to tens of thousands of Rohingya refugees from neighbouring Myanmar on an island in the bay of Bengal.
The government has a committee of officials the task of the authorities to help undocumented refugees from Myanmar to identify and to bring to the island Thengar Char, writes Al Jazeera.
That island lies in the delta of the river Meghna, about nine hours away from the camps where the muslim Rohingya refugees are now to be found.
'Terrible idea'
A local official told news agency AFP that the island, which is 2.430 hectares, "only accessible during the winter and a haven for pirates".
He added that the government currently will plant trees on the island as protection against storm surges and floods, but that the work still at least ten years, will take up.
"The island is fully covered during the rainy season," said the official, who wishes to stay anonymous. "It's a terrible idea to have someone there to let live."
Violence
The UN refers to the forced relocation of the refugees "in a very complicated and controversial".
A UN special envoy arrived last month in Myanmar, to investigate the Burmese army Rakhine are guilty of crimes against humanity.
There were already about 232.000 Rohingya in Bangladesh, both legal as illegal. Mightily to violence in the Burmese state of Rakhine led from October last year to the influx of 65.000 members of the moslimminderheid.
Tourism
Most of the refugees live in overcrowded camps in the district of Cox's Bazar, that Rakhine borders and the greatest tourist attraction of Bangladesh. The Bangladese government is worried about the impact of their presence on the tourism.
"Preventive measures must be taken to ensure that they (the refugees, red) can not spreading and mixing with the local population", state in a note of the Bangladese cabinet.
"The identified refugees should be arrested, or back to the camps to be pushed as they try to work outside the prescribed limits, to act."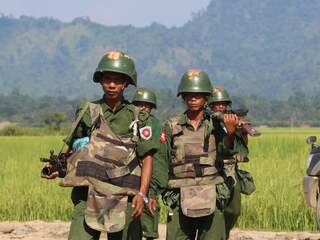 See also:
UN-mensenrechtengezant visit Myanmar