Army drives islamic extremists largely from the Philippine city of Marawi
The Philippine armed forces to terrorist group IS affiliated extremists driven out of the largest part of the city of Marawi.
"Our commanders on the spot have assured us that the end is almost in sight", said brigadier general Restituto Padilla Monday in Manila.
About sixty thousand people over the past week fled the fighting between the army and the group Maute.
By the violence, according to the authorities, certainly nineteen citizens, eighteen soldiers and 61 extremists were killed. There is concern that extremists posing as refugees to somewhere else with attacks to be able to commit.
Share
The largest portion of Marawi, where formerly about two hundred thousand people lived, would now be in the hands of the army.
Government forces have only "certain areas" is not in the hands, said Padilla. He indicated that "precisiebombardementen" are necessary to remaining fighters off.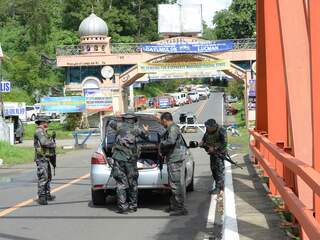 See also:
One hundred soldiers to fight islamic militants on Filipino island