close

Video
Armed bystanders stop carjacking spree in Washington state
Suspect shot in Walmart parking lot after leading police chase.
One of the armed citizens credited with the taking of a carjacking suspect who went on a rampage at a Washington state Walmart parking lot Sunday, reportedly is a pastor in the area.
The 47-year-old Oakville man, who is not identified, shot and killed the suspect outside the Supercenter in Tumwater, The Olympic Monday reported.
CARJACKING SUSPECT DEAD OUTSIDE WALMART STORE AFTER ARMED CITIZENS IN ACTION, POLICE SAY
The man was described by a police spokesman has a local pastor with a concealed carry permit.
The unknown man shot and killed the suspect, a 44-year-old Tim Day, after he embarked on a violent spree, which has three people injured, including a 48-year-old man who was shot twice when he refused to give into his car, according to Q13 Fox.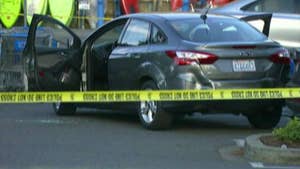 Video
A bystander kills armed carjacker in Walmart parking lot
The man who was wounded by gunfire was airlifted to a hospital, where he remains in critical condition in the ICU.
His son Kyle Fievez, told the Olympia-area newspaper that his father was shot in the neck and the trunk, and that bullet fragments were lodged near his spine.
A GoFundMe account set-up for the man said that he "lost his spleen and part of his pancreas," and "ripped his stomach… he is paralyzed from the neck down."
The pastor who shot the Day reportedly has emergency medical training and helped the injured man before he was taken to the hospital.
The Walmart Supercenter was closed Monday, but was scheduled to reopen Tuesday morning.
Nicole Darrah cover breaking and trending news for FoxNews.com. Follow her on Twitter @nicoledarrah.