Football
Argentina suffers in Bolivia sensitive defeat in battle for world cup ticket
Photo: ProShots
Argentina has Tuesday a sensitive defeat suffered in the kwalificatiereeks for the world cup 2018. The runner up at the worlds had to bow to Bolivia (2-0).
Juan Carlos Arce and Marcelo Moreno fields in the Bolivian capital, La Paz, the judgment about the Argentinians, so three expensive items were lying in the battle for a ticket for the tournament in Russia.
After fourteen matches, the team of coach Edgardo Bauza with 22 points still on the 'safe' fourth place. Ecuador and Chile have, however, still a duel credit and can come alongside in the South American qualifying group.
The best four countries of the kwalificatiereeks qualify for the world cup in Russia. Argentina is placement still quite uncertain. Brazil is still proud to cup, for Colombia and Uruguay. The last time that Argentina was missing a world cup was in 1970 in Mexico.
Argentina crashed in Bolivia
© ProShots
© ProShots
© ProShots
© ProShots
© ProShots
Share this photo via:
Back to slideshow
Messi
Argentina started without captain Lionel Messi to the cheerful job in Bolivia, where since 2005 not has won. The star player was earlier on Tuesday for four matches, suspended because of the berating of the linesman in the match with Chile last Thursday (1-0 win).
The lack of the attacker of FC Barcelona was already after half an hour feel, when Arce and the score was opened in the Estadio Hernando Siles. Eight minutes after rest certain Moreno in the final standings at 2-0.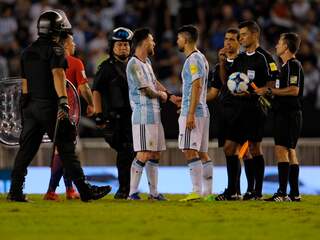 See also:
FIFA suspends Barcelona four kwalificatieduels for name-calling, linesman