Archaeologists find remains of ancient water gate Enkhuizen
Photo: Archaeology Of West-Friesland
Archaeologists have in Enkhuizen, the remains of a third water gate found. Reports that the church Tuesday.
The port was in 1598, during the Eighty years ' War, was built and was part of the fortress of Enkhuizen.
The name of the water gate was Ketenboom. The port had a dimension of 15 by 7 metres and was made with a doorvaartbreedte of 4 feet larger than the Gouwsboom and the Boerenboom, the two existing town gates. The port was for the small ships, the connection between the city and the polder, and in 1886 demolished.
The archaeologists found the foundations of research prior to the construction of a warehouse.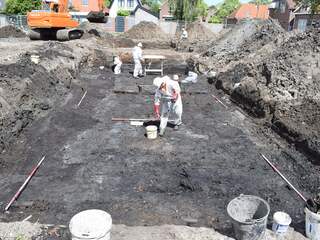 See also:
Archaeologists in Enkhuizen encounter tannery from 17th century