to connectVideoFox News Flash, important news, Jan. 24
Fox News Flash-main news, Jan. 24, are here. Check out what to click on Foxnews.com
Archeologists in Iraq have unearthed the beautiful rock paintings, showing the Assyrian king, paying homage to gods of their own, with a procession of mythical creatures.
In the drawings, which is nearly 3,000 years old, the lamp-posts have been dug up in Faida district, north of Baghdad, after being hidden for a number of years in order to protect them from damage caused by the Islamic State militant group.
With the exception of the carvings at the archaeological site of Khinnis, have been discovered in the vicinity of the city of Mosul in 1845, "there is no Assyrian rock-art complex, which can be compared to Faida," archaeologist Daniele Morandi Musuem of the University of Udine, told Live Science.
THE "LAMB OF GOD" LAMB OF GOD " AS AN ALARMING RATE THE HUMAN'S FACE STUNNING THE ART WORLD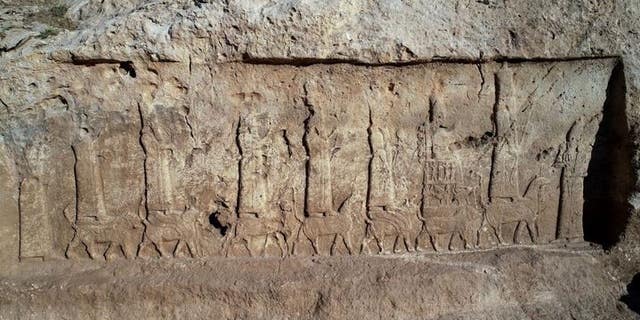 The exposed panels showing a procession of seven of the most important of the Assyrian gods and goddesses, standing or seated on a mythical animal and as the Assyrian king Sargon II.
(Alberto Savioli/Land of Nineveh Archaeological Project/University of Udine)
ANCIENT SCUPLTURE LOOTED FROM AFGHANISTAN AFTER BEING FOUND ON THE AUCTIONEER'S WEB SITE
The Faida relief, with a group of seven of the Assyrian gods are shown in profile, standing on a dragon, horned lions, bulls, or horses, the researchers note.
The researchers say that the engravings were first seen in the 1970s, and the survey was started in 2012, but the excavation work had to be halted when ISIS took over a large part of the territory of the region in 2014.
The carvings were found in a rock on top of what used to be the old moat, which were built by the Assyrian king Sargon, for irrigation purposes.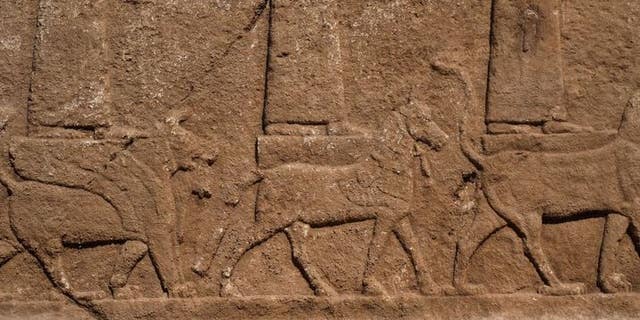 Every one of the Assyrian gods and goddesses may be seen either standing or sitting on a mythical creature.
(Alberto Savioli/Land of Nineveh Archaeological Project/University of Udine)
"It is very likely that more and more relief, and perhaps even monumental, celebratory cuneiform inscriptions are still buried under the ground and rubble that filled the Faida canal," the fair district Musuem, who is in charge of the excavations at Faida, also told of the progress of Science.
THE FOX NEWS APP