The American retired general Jim Mattis leaves at the end of February as minister of Defence. That was president Donald Trump Thursday night let known via Twitter.
The resignation comes a day after Mattis critical uitliet about the decision to bring all American soldiers to withdraw from Syria. He did not agree with that decision, because he was afraid that Syria was in the hands of Russia and Iran would come.
In his farewell letter, he goes further in. "It is clear that Russia and China have a world to create, through an authoritarian model to a right of veto to be able to get about economic and diplomatic decisions and veiligsheidszaken of other countries, to their own interest to be able to favoritism at the expense of their neighbours, America and our allies."
Also writes Mattis that Trump "has the right to a Defence minister whose ideas on these and other topics are more in harmony with that of him" and that he therefore has decided to steps.
Mattis calls the US "indispensable in the free world" and writes that the United States "interests can't defend, or that role can effectively perform without strong alliances to maintain, and to show respect towards the allies".
Trump thanks 'great support' Mattis
In his tweet thank you Trump Mattis for his services in the past two years. "During his term, there is enormous progress, especially in the area of the purchase of new gevechtsapparatuur."
According to Trump it was Mattis "a great support" in getting allies and encourage other countries to take their share of the "military obligations" to pay. For any liabilities that exactly is, is not clear.
The American president will soon be the successor of Mattis disclose, he writes on Twitter. Mattis was after his retirement as a general, by Trump as minister of Defence was appointed. He was on January 20, 2017 sworn in.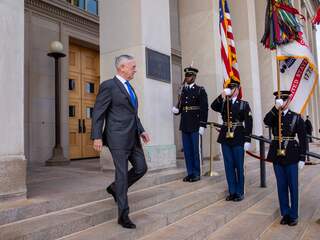 See also:
American politicians respond baffled and worried on departure Mattis
Do you want to every morning, right to know what you night have missed, and what the day is going to happen? Subscribe to our This is the news-newsletter!