Bernhard ten Brinke is satisfied with his strong start in the Dakar Rally. The Dutch racing driver was Tuesday third in the second stage and climbed up the rankings to second place.
The 41-year-old Ten Brinke, which had started with an eighth place in the openingsetappe, which is on course for his objective: winning the Dakar Rally.
"It ran out today, very very good. I am glad that we have our speed to have been able to put in a good result", said the Toyota driver after the tough second stage is about 342 km from Pisco to San Juan de Marcona.
"From the very first kilometers we got high dunes for our choosing. We came here nevertheless, good through, also thanks to a good navigatiewerk of Xavier Panseri."
Ten Brinke was mainly talking about the second part of the race. "Suddenly we were on a very nice rallyproef. It was great fun, because the car is so nicely balanced. We really pushed our march to the front."
Bernhard ten Brinke in action in the dunes of Peru. ()
'Great starting position for third stage'
Ten Brinke and his navigator Panseri were in the second stage only Frenchman Sébastien Loeb and Spaniard Nani Roma. In the rankings, is only 28 seconds, admittedly on Giniel de Villiers.
The third stage of Thursday goes from San Juan de Marcona to Arequipa, where 331 miles. "We start as third car; that is a great starting position. We look forward to the challenge and continue our plan," says Ten Brinke.
Last year won Ten Brinke as the first Dutchman to the stage in the cars and in the run-up to the Dakar Rally this year, he said, that he for the gold wants to go. "I am convinced that I more than ever am ready for it," he said.
The 41st edition of the famous woestijnrally is fully in Peru finished. Next week on Thursday to reverse the caravan in the tenth and last stage back in Lima. This coming Saturday is the only day of rest in Arequipa.
Approximately 70 percent of the entire trail consists of dunes and sand. The organization is for the first time that early drop-outs after the rest day to re-start.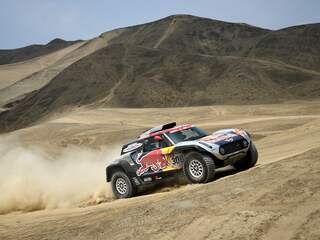 See also:
All about Dakar 2019: Woestijnrally for the first time in one country