Dams
Also draw in the sixth WK-party players Boomstra and Groenendijk
The sixth party in the duel for the world championship checkers between Roel Boomstra and Jan Groenendijk is Friday in Wageningen in a draw ended.
This is the position in the series of twelve races at 8-4 up in the advantage of Boomstra.
The seventh party is Saturday, again in Wageningen.
After a day of rest on Sunday moved the world CHAMPIONSHIPS to Den Haag, where Monday in the building of the senate of the eighth party is finished.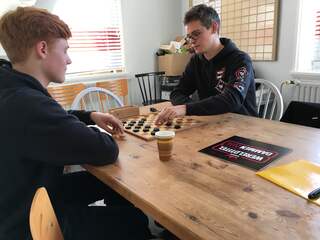 See also:
How hip hop and Ronnie Flex the damsport large make