André Onana had not expected Wednesday during the renewal of Roda JC-Ajax had raids. Ajax coach Erik ten Hag decided the goalkeeper for the penalty shoot-out.
Onana started on the bench, because At the Hag had his team in a lot of places changed for the TOTO KNVB-bekerduel with the team from the Kitchen Champion Division. Kostas Lamprou was therefore the keeper of Ajax.
"She had it fixed without me have done, but today I need to to help the team. I had not expected," said a modest Onana after the match at the Parkstad Limburg Stadium against FOX Sports.
"I would just sit on the couch and the trainer motioned to me that I had warmlopen. I was surprised, because Kostas is also a penaltykiller. I'm especially happy that we are."
Onana distinguished himself in the penaltyserie by the second penalty kick of Roda JC to return. The Kameroener went to the right corner with the deployment of attacker Mitchel Paulissen. Ajax won the series 4-2 and is therefore kwartfinalist.
"I have a little bit of luck'
The 22-year-old Onana, who up until the last ten nominees for the title of African Footballer of the Year, admits that he often gambles on a penalty kick.
"I also have a little bit of luck. I choose an angle and sometimes that good, sometimes not," said the goalkeeper, who is happy to see that Ajax – moderately played – by the victory with a good feeling may work to the competitieduel with FC Utrecht on Sunday.
"This is fantastic for us in the direction of the match against Utrecht, where we have to win. We know that we champion are as we all win."
The match in Utrecht for Ajax the last of the year. The league after the winter break, will resume on 20 January with a thuisduel with sc Heerenveen. A week later Feyenoord's opponent in Rotterdam.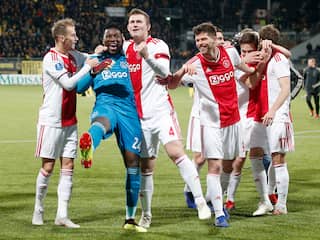 See also:
The Is praises 'penaltykiller' Onana after hard fought victory at Roda JC