Football
Ajax against Legia for the tenth time in a row undefeated to remain in EL
Ajax can be Thursday evening in the away game against Legia Warsaw for the tenth match in a row undefeated to remain in the Europa League.
The last defeat of the people of Amsterdam dates back to 22 October 2015, when 1-0 was lost on a visit to Fenerbahçe. Ajax suffered since then, however, a painful European defeat, but that was in the preliminary round of the Champions League. On August 24, 2016 was 4-1 lost to FK Rostov.
In the Europa League won Ajax of Celtic (1-2), Standard Liege (1-0) and Celta de Vigo (3-2) and twice from Panathinaikos (1-2 and 2-0). In addition, there were an equal play against Fenerbahçe (0-0), Molde FK (1-1), Celta de Vigo (2-2) and Standard Liege (1-1).
It is Ajax with this unbeaten sequence, is still far removed from the clubrecord. In the years 1991 and 1992 continued to Ajax less than eighteen games in a row unbeaten in the UEFA Cup, the forerunner of the Europa League. In 1992, then became the UEFA Cup won.
Ajax prepares for duel with Legia
Ajax worked Wednesday was the last training before the Europa League match with Legia Warsaw.
© ANP
The match in Warsaw begins Thursday at 21.05 hours.
© ProShots
Bosz will not be much change in its set-up.
© ANP
The players were well wrapped up because of the cold.
© ANP
Prior to the training was the press conference with Peter Bosz and Daley Sinkgraven.
© ANP
Share this photo via:
Back to slideshow
Ruch Chorzow
Ajax can also hope to draw from the previous results against Polish clubs. Four times previously, played for the Amsterdam club against a team from Poland and all the times it was won.
Two years ago, played Ajax in the sixteenth-finals against Legia and then overcame the team of former coach Frank de Boer with 1-0 and 0-3. The other Polish opponent was Ruch Chorzow, in 1969. Ajax defeated the club with 7-0 and 1-2.
The match between Legia and Ajax begins Thursday at 21.05 hours and is under the direction of the Spaniard David Fernandez Borbalan. Next week is the return in the Arena. Also AZ is Thursday in action in the Europa League. The Alkmaar club plays at 19: 00 at home against Olympique Lyon.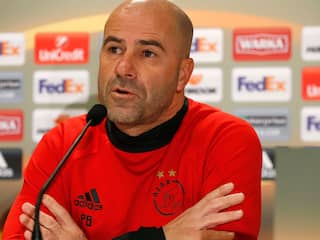 See also:
Leaf does not change much with Ajax in a duel with Legia Warsaw
View the programme in the Europa League