close

Video
Incredibly: Emotional support peacock refused on the United flight
Well, that didn't fly! United airlines refused to allow a woman and her emotional support peacock, to fly. You have to see it to believe it.
A airlines group of nine major carriers has asked the Ministry of Transport to limit the type of emotional support animals are allowed on flights to just dogs.
Airlines for America, which represents large companies like American Airlines and Southwest, wrote a report to DOT earlier this month, the application of more stringent policy for emotional support animals.
WOMAN DENIED EMOTIONAL SUPPORT PEACOCK ON UNITED FLIGHT
The airlines group states that the number of incidents involving emotional support animals has only grown in recent years — American Airlines saw an increase of 40 per cent of support animals on board between 2016 and 2017, and that the reported incidents of emotional support animals "urinat[ing], defecat[ing] and bite" is also increased.
"The airlines are still concerned that untrained service animals that pose a risk to the health and safety of the members of the crew and the passengers," the airlines group states in the report.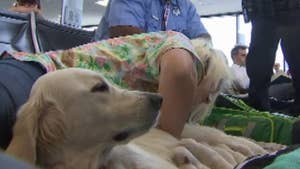 Video
Service dog gives birth to puppies in Florida airport
The group has also criticized the current legislation, which it claims people to exploitation through the use of websites that are offering certificates of psychological need for virtually any applicant who pays a small fee" and "the presentation of untrained animals that are essentially just pets" as an emotional support animal.
Airlines for America asked the department to restrict emotional support animals to trained dogs that meet the Americans with Disabilities Act.
In March, Delta Air Lines mandated passengers to submit documentation that their animals had been trained to behave in a public setting, and the right of service animals to be checked in at the airport counter. Last week, Delta updated animal policy and now prohibits all "pitbull type dogs" of aircraft.
In May, American Airlines banned hedgehogs, ferrets and goats from the aircraft.
FOLLOW US ON FACEBOOK FOR MORE FOX LIFESTYLE NEWS
Airlines are not the only ones that are frustrated with the current policy on emotional support animals. Airports are also trying to limit the types of animals allowed.
Airports Council International-North America, the membership of the organization represents and advises the most AMERICAN airports, urges the Ministry of Transportation to clarify the rules about what animals can be recognized as emotional support animals.
Portland international Airport has already announced a new regulation which requires that the dogs be kept in carriers or on short leashes, with a possible fine of up to $250 if violated, USA Today reported.
Alexandra Deabler is a Lifestyle writer and editor for Fox News.