Aid agencies want to reopening airport Sanaa
Photo: AFP
Fifteen aid agencies call upon the warring parties in Yemen to the main airport in the capital Sanaa to reopen.
The airport at sana'a has been a year to close, leaving thousands of seriously ill patients in the country is not able to leave and humanitarian aid is being obstructed, write the organizations, including the International Rescue Committee, Wednesday, in a joint statement.
In Yemen in the last three months by a cholera epidemic in 1900 people died and an estimated 400,000 people became infected, reported the world health organization (WHO) at the end of July. As a result of the years of civil war have 15 million people in Yemen do not have access to sanitary facilities and drinking water.
The Yemeni authorities estimate, according to the aid organisations that already 10,000 people have died due to diseases for which they need help trying to find abroad.
Alternative routes
"For help abroad should the Yemenis now alternative itineraries", propose the church. Patients must therefore often be journeys of ten to twenty hours to another airport to reach. They must, moreover, often through areas drive where is fought.
In Yemen's raging since 2015 a civil war. The government, backed by a Saudi Arabia-led coalition is in a bloody battle with Houthi rebels and various extremist parties. The United Nations did in 2015 is already at the stop of the bombing at the airport of Sanaa, to humanitarian assistance, bespoedingen.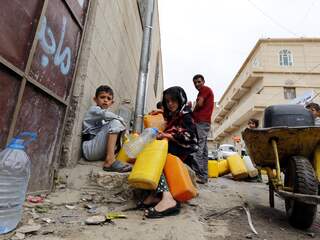 See also:
'Cholera outbreak Yemen prepares for the end of 2017 600,000 inhabitants'