to connectVideoFox News Flash, important news, June 14,
Fox News Flash top headlines for June 14 here. Check out what to click on Foxnews.com
A woman who suffered 13 miscarriages over the last 10 years has finally had her miracle baby after taking steroids to build up her womb.
Laura Worsley, 35, lost the baby, which she did, with a lot of pregnancies, lasting only a few weeks old. But she never gave up hope of realizing her dream of having a child with her husband, Dave, of 48.
A BABY LEFT FIGHTING FOR LIFE AFTER CONTRACTING HERPES FROM THE KISSING, THE BAPTISM, MOM SAYS
The couple suffered their first broken heart, when Worsley suffered a miscarriage in 2008. She suffered three miscarriages over the next two years, and for the doctors to be referred to as an innovative medical research team.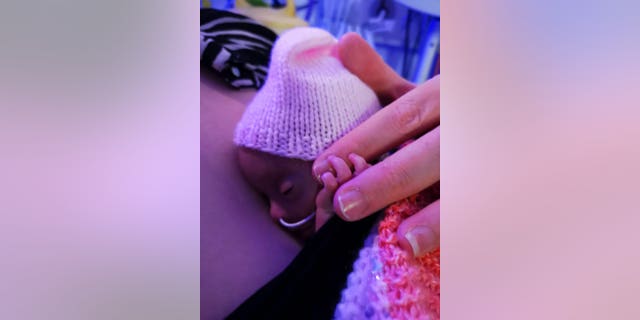 Ivy was born to parents Laura and Dave, after they had suffered 13 miscarriages.
(SWNS)
Under the expert supervision of Professor Siobhan Quenby and the Biomedical Research Unit at the University Hospital of Coventry and Warwickshire (UHCW), she took part in a "world leader," abortion, research.
Quenby was discovered that Worsley had Antiphospholipid Syndrome, which is also known as "sticky blood syndrome" which can lead to recurrent miscarriages.
When working with the device, Worsley lost the two guys by the name of Leo, and Graceson at 17 weeks and 20 weeks.
Leo, the placenta was tested and the results showed that, at Worsley, had also, in a second condition, and a Chronic Histiocytic Intervillositis (CHI), which causes the body to reject the pregnancy.
She also took steroids to build the lining of her womb, and she became with child, of course, for the 14th time this past March.
Worsley, was given drugs to stop her blood, and she finally went in labour at 30 weeks.
Surgeons carried out an emergency c-section on Sept. 12 of last year, and the baby, Ivy, was born prematurely, weighing only 1 pound, 7 ounces.
BREAST IMPLANTS LINKED TO A RARE FORM OF CANCER, YET THE FDA POINTS TO A BAN
Ivy was placed in an incubator in the intensive care unit, but after only 11 weeks until she was strong enough to be taken home.
"Even now, nine months on, I can't believe that they actually belong to me," Worsley, of Kenilworth, Warwickshire, it said. "I don't have much time for the research, and the maternity teams at the Hospital are enough, and they have helped me to have the baby, I have always dreamed of. I feel like all my christmases come at once. It is important, therefore, to make a difference for someone else going through what I went through."
"Through my story, I want to give others the hope and strength to carry on even when things seem impossible," she said. "[As the distress of the miscarriage], I could hear a high dose of folic acid should sort it, but it didn't happen. We took part in the tests, and did all sorts of tests and tried different medications in the hope that something would work. I don't know how I managed to be honest with you. Dave continued to be strong for me, but if we lose the boys, he would have a really hard time.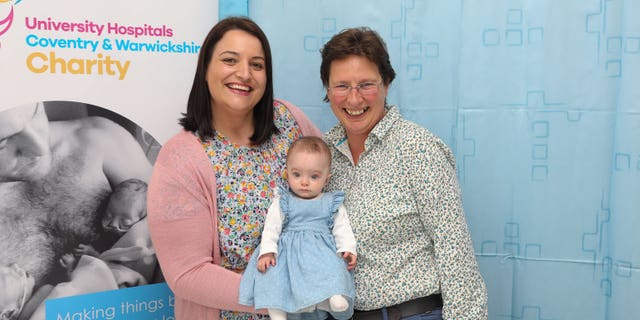 In spite of a weight of under 2 pounds at birth, Laura said that she knew her daughter, pictured with Professor Quenby, was a fighter.
(SWNS)
"It was all I lived for, I have lost many years of my life. And I thought, well, if I was a baby, I don't see a point in my life," she said. "[CHI] was the cause of my placenta, die in the place. I wasn't sure if I wanted to try again. However, Professor Quenby said that they had helped the women for the success. I was thinking that if there was a little bit of hope that I had to do it again. I was talking to Dave about it and he did the same thing."
"I said to myself," this is the last time I do that," Worsley said. "We didn't really have to tell anyone [about the 14th of pregnancy]. It was the most difficult thing is to keep it in, but it is the hardest thing for us to share with you. I just kept thinking about it, if we tell people, we're going to have to get onto it. My husband saw Ivy for the first one. He showed me a picture of her, and when I woke up."
CLICK HERE TO VIEW THE FOX NEWS APP
"I thought," she's a fighter. She just kept going on all the time, and she never went back," she said. "I look at her and think: 'miracles do happen'. I've read about other people's miracles, and now that I have my own."
"Steroids do have side effects. However, we both decided that it would be worth it to have a go," Quenby said. "I was happy [to Ivy] was here, but I just couldn't bear to see her, until I knew she was OK. I would have to ask the nurses to go and see her in front of me, but I was too scared. Laura's case, it will benefit people all over the world. A lot of people in her situation would have given in, but she just kept going."