Steven Bergwijn is happy that he is on Sunday with the opening goal and a very important part in the 4-1 win of PSV eindhoven at VVV-Venlo, the netherlands, which he dedicated to his grief-stricken team-mate, Mohamed Ihattaren.
Bergwijn was Sunday morning, via coach, Mark van Bommel, the sad news of the death of the father and of the Ihattaren, which has for some time been sick. Of course, the seventeen-year-old attacker would not be in the selection process.
"I just woke up and I decided to send a message to the coach of the groepsapp," said Bergwijn, who in the second half, the score was opened by FOX Sports. "When we got to the club, were we have talked about it. When something like this happens, it puts football very little in return."
Bergwijn was looking for just after he hit the camera with a kiss on the lens, and have used the hearts to the cross, while his fingers, and the letter M is formed.
"The Cat!", she put Bergwijn out. "I'd kiss him if I see him. So, it really is for you, Mo!"
For Bergwijn was his goal to end a very long drought. The last and only goal of the season and had more than a month and a half ago. "I hadn't scored but the assists are given. All of it is to score of course it is always nicer to work with. I am very happy that it has once again been successful."
The crowd in the Philips Stadium, applauding, in the 24th minute to Ihattaren, which is number 24 and contributes, as appropriate. (Photo: Pro-Shots)
'A minute's silence was the most magical moment'
As Bergwijn said Van Bommel is a very emotional day. "And that goes for the whole team. The minute's silence before the match, it really was a most magical moment."
"Even though you're still with the game out, which is all about the Mo. You'll find it on the boys. It's good that they are in the goals, also let it be known that she thought of him."
Van Bommel saw that MANU, ultimately, it was only in the last half an hour made all the difference, through the goals scored by Bergwijn, Using the Dumfries and Donyell Malen. On behalf of the visitors, did He Pachonik at 3-0 to give something back.
The coach was, nevertheless, not for a moment worried that his team would lose. "The first half I thought was very good. You have to know that the TOURIST office at a given point in time can no longer walk. It did not, perhaps, spectacular, but I'm very happy with it."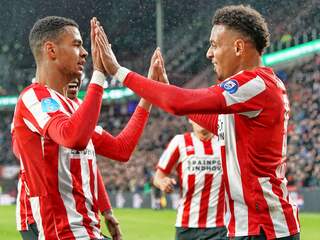 See also:
PSV in charge of peace with VVV-Venlo, and will remain, a trace of the Ajax