to connectVideoFox News Flash, important news, for July 22
Fox News Flash, important news, for July 22 here. Check out what to click on Foxnews.com
If you think that the fictional zombies are running around in the movie were scary, the extent to which it changes the creatures into mindless eating machines actually exist in the natural world. In the ants.
According to a study published in the Journal of Experimental Biology ants that come into contact with a deadly fungus (Ophiocordyceps unilateralis) have their jaw muscles are inherited, until finally they die.
The study's lead author, Colleen Mangold, noting that the fungus does not attack the brain directly. Instead of the mandibular muscles, … of the infected ants have been extensively colonized by the fungus," she said in a statement.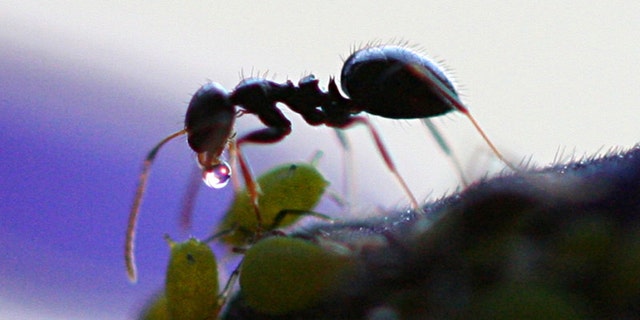 The image of an ant who received honeydew from the aphids. (Credit: Dawidi, Johannesburg, South Africa, South Africa)
ZOMBIE ANTS ARE SCARIER THAN YOU EVER IMAGINED
Mangold, along with other researchers found that the affected muscles showed evidence of hypercontraction, as the ants are stuck with their jaws firmly on a piece of wire or a twig.
"In spite of the extensive colonization of both motor neurons and neuromuscular junctions appear to be preserved," the study's abstract reads. "The infection results in sarcolemmal damage, but this is not specific to the death-grip on the camera. We have found it to be a proof of precisely the penetration of the muscles in the mold structures in the presence of extracellular vesicle-like particles, both of which may contribute to the mandibular hypercontraction."
In the end, the ants will die, and if the consumption of it within the room. Even worse, the spores of the deadly fungus down the stem that is growing from the dead ants, in the hope of finding a new host.
The fungus is mostly found in the ants that live in tropical climates, such as Brazil, Africa, and Australia.
Mangold is the study of these 2017 study on the deadly effects of Ophiocordyceps unilateralis.
CLICK HERE TO VIEW THE FOX NEWS APP