Nearly 2.2 million people Tuesday night at Veronica and watched the Champions League match between Ajax amsterdam and Lille OSC. The game was the best-watched program of the night.
Down the line, it was on the same channel, 951.000 people look at it, just slightly less than that of the Sportjournaal on NPO 1 (986.000). Of the week, it was in the aftermath of the match, watched by 736.000 people.
The live coverage of the end of September, drew 904.000 viewers, and came in ninth place on the topkijkcijfers on Tuesday. In the third episode of the Star on the screen, where, this time, Floortje Dessing was a guest, and it was 754.000 people look at it. This is so far the best-reviewed episode of the season.
NOS Journaal 20: 00 hours, finishing in second place, with more than 1.9 million viewers, followed by news from 18: 00, with more than 1.4 million viewers.
354
Summary Of Features The Lille (3-0)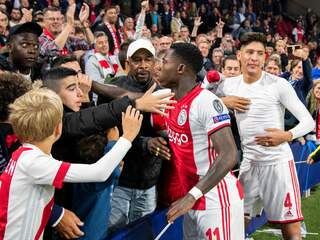 See also:
Ajax, start of Champions League adventure with a resounding victory at Lille