10,000 extra fast e-bikes in traffic should be on the roadway
In our country, driving more than 10,000 extra fast electric bikes a pedal assist have up to 45 miles per hour. Almost seven in ten owners between 45 and 65 years.
In the provinces of Utrecht, Overijssel and Zeeland are relatively most owners of these so-called speed-pedelecs. In Limburg and Flevoland is the least, according to figures from the Central Bureau for Statistics (CBS) and RDW, which is the registration of motor vehicles keeps track of.
Since the beginning of this year is a bromfietskenteken for this kind of high-speed e-bikes mandatory. Directors as well as mopeds use the carriageway, unless otherwise indicated. Also, a helmet and rearview mirror required.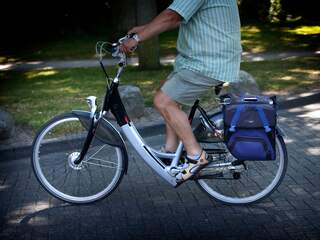 See also:
'E-bike no longer just for the elderly'